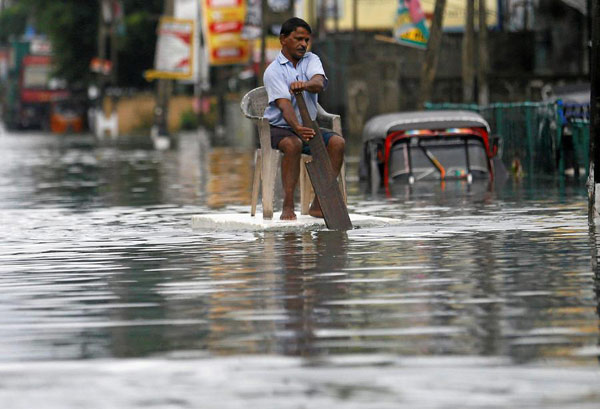 A man sits on a chair as he uses a piece of styrofoam to move through a flooded road in Wellampitiya, Sri Lanka May 21, 2016. [Photo/Agencies]
COLOMBO - International assistance poured into Sri Lanka on Friday as the government continued efforts to provide relief to tens of thousands of people affected by severe floods and landslides owing to days of heavy rains.
The United States provided 50,000 US dollars for emergency humanitarian aid to meet the urgent needs of victims of the ongoing landslides and flooding while Defence Ministry officials said that one transport aircraft from India was due to arrive in the island country on Friday night with relief supplies.
The officials said two Indian naval ships with aid supplies were also expected to reach the country on Saturday.
Other countries which had pledged assistance included China, Pakistan and Australia while the Commonwealth Secretary General Patricia Scotland on Friday called on Commonwealth member countries to provide support to Sri Lanka through coordinated operation in the aftermath of devastating landslides which struck in Sri Lanka's Kegalle District.
Evacuation efforts continued in the capital of Colombo on Friday as houses remained underwater due to severe rains in the past week.
The Navy said efforts were being made to evacuate families living in flood prone areas in case the rains continue.
"We are trying our best to evacuate the people, but many families do not want to move. We cannot leave them there. It is dangerous," a navy official involved in rescue efforts in flood hit Kollonnawa told Xinhua.
As several houses remained underwater, navy boats were patrolling the flooded areas distributing aid and water to the families who were residing in the upper floors of their houses.
The armed forces were also involved in distributing aid in flood hit Kelaniya, just outside the capital as water levels reached a dangerous level.
Although rains had ceased in Colombo on Friday, residents were unable to go near their homes due to severe flooding. However residents remained in hopes that they could return back in the coming days.
"We hope the rains do not come back. We have lost everything as our house is completely under water. Right now we are living in a temporary camp which has been set up on the road," Fathima Nazeem said.
Sanjeewa Bandara had moved to a tent with his wife and two children and urgently required clothes and water.
Priyadarshani, 61, who fled her home with her husband on Tuesday night, said she was awaiting to return home in the aftermath of the disaster.
Over 450,000 people have been affected by the floods and landslides across the country while the Disaster Management Center said that 64 people had been killed.
Rescue efforts were ongoing in many districts, especially in Sri Lanka's Central Kegalle District, where two massive landslides had killed at least 36 people while over 140 were still trapped under the debris.
The government said it was making immediate efforts to provide assistance and has pledged to resettle those affected as soon as the water levels recede.