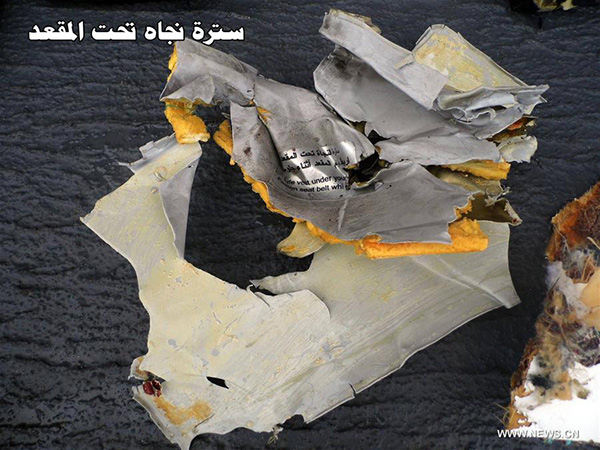 Photo released by Egyptian Armed Forces on May 21, 2016, shows a life jacket from EgyptAir flight 804. [Photo/Xinhua]
CAIRO - After France said Saturday that crashed EgyptAir MS804 had transmitted automatic messages indicating smoke in the cabin, Egypt said later that this cannot not reveal the cause of the crash, as search for the plane wreckage and investigations continued.
The plane, an Airbus A320, disappeared from radar screens early Thursday en route from Paris to Cairo. It was later confirmed to have plunged into the Mediterranean with 66 people on board, including 30 Egyptians and 15 French.
Egyptian aviation minister said Thursday that a terrorist attack is more likely behind the crash than a technical failure.
Flight MS804 had transmitted automated messages indicating smoke in the cabin shortly before it plunged into the Mediterranean, France's aviation safety agency said.
However, French Foreign Minister Jean-Marc Ayrault said Saturday that no hypothesis on the cause of the crash has been ruled out, since "at this time... all theories are being examined and none is favored."
"Finding the plane is of course the priority, along with finding the black boxes to analyze them, which will allow us to answer legitimate questions," he said, vowing to "tell the entire truth about what happened."
"The question now is whether the fire that caused the smoke was the result of an electrical fault - for example a short-circuit caused by damaged wiring - or whether some form of explosive or incendiary device was used - for example by a terrorist - to generate a fire or other damage," aviation safety expert David Learmont said.
A preliminary report into the tragedy "will be published in one month ... and will include all the information gathered by the date of its publication," Ayman al-Moqadem, head of Egypt's Air Accidents Investigation department, was quoted by state-owned Al-Ahram newspaper as saying.