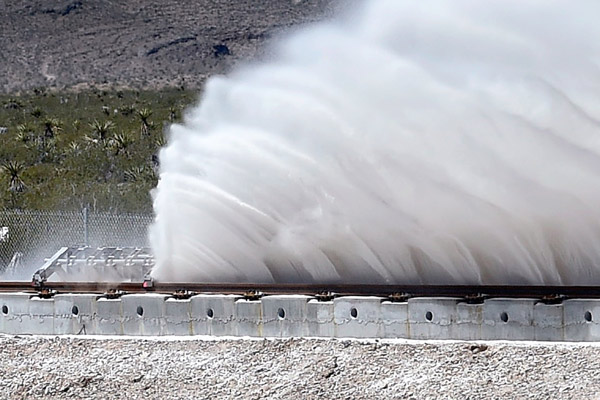 Sand is displaced as a test sled is slowed during the first test of the propulsion system at the Hyperloop One Test and Safety site on May 11, 2016 in North Las Vegas, Nevada. The company plans to create a fully operational hyperloop system by 2020. [Photo/VCG]
LAS VEGAS - Fifty kilometers north of Las Vegas, Nevada, in the middle of the desert, Elon Musk's vision of transporting people at around 700 miles per hour, or 1,126 kilometers per hour, is one major step closer to reality.
On Wednesday morning, dozens of investors, partners and media representatives assembled on metal risers watched a test vehicle rocket along a straight track, which is built by a Los Angeles-based startup Hyperloop One.
That is the first public peek at what engineers are calling a "propulsion open-air test" (POAT) of Hyperloop One's transportation technology, which will potentially change the future of transit along the way.