Tesla CEO Elon Musk unveils 'Hyperloop' sytem
Updated: 2013-08-13 06:46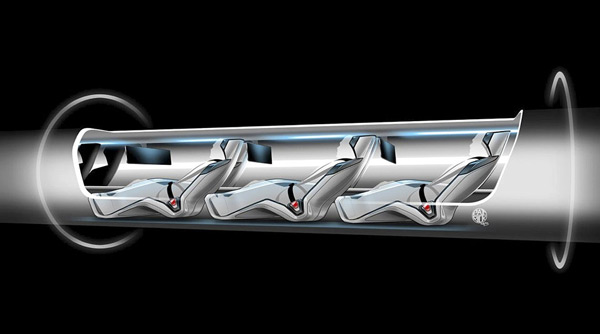 An image released by Tesla Motors, is a sketch of the Hyperloop capsule with passengers onboard. [Photo/Agencies] 
LOS ANGELES -
Imagine stepping into a car-sized capsule in downtown Los Angeles and, 30 minutes later, emerging in San Francisco.
On Monday, billionaire entrepreneur Elon Musk unveiled a transportation concept that he said could whisk passengers the nearly 400 miles from Los Angeles to San Francisco in 30 minutes — half the time it takes an airplane.
If it's ever built.
His "Hyperloop" system for travel between major cities would use a large tube. Inside, capsules would float on air, traveling at over 700 mph. The air would be sucked by a powerful fan at the front and expelled at the rear.
"Short of figuring out real teleportation, which would of course be awesome (someone please do this), the only option for super fast travel is to build a tube over or under the ground that contains a special environment," Musk wrote in his proposal, posted online.
The system Musk envisions is not unlike the pneumatic tubes that transport capsules stuffed with paperwork in older buildings.
In this case, the cargo would be several people, reclining for the ride.
Coming from almost anyone else, the hyperbole would be hard to take seriously. But Musk has a track record of success. He co-founded online payment service PayPal, electric luxury carmaker Tesla Motors Inc. and rocket-building company SpaceX.
Monday's unveiling lived up to the hype part of its name.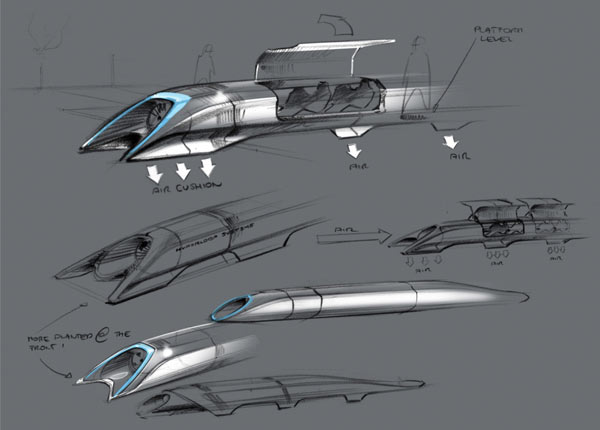 A sketch of billionaire US entrepreneur Elon Musk's proposed "Hyperloop" transport system is shown in this publicity image released to Reuters August 12, 2013 by Tesla Motors. [Photo/Agencies]