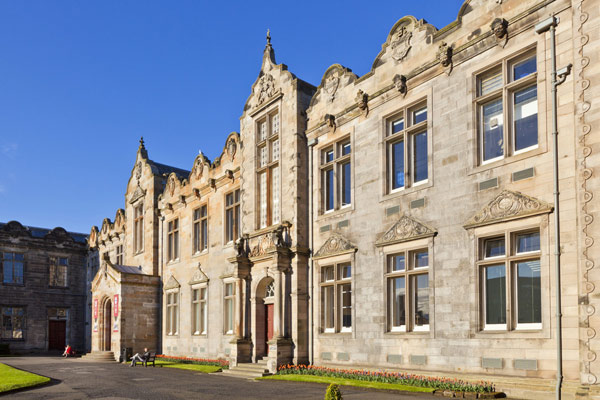 St. Andrews University in Scotland, the UK. [Photo/IC]
A rising number of Chinese students who aim to further their higher education in the European Union will benefit from an extension of at least nine months of stay after their studies end, according to new rules agreed by the European Parliament on Wednesday.
The new rules, valid for all the students and researchers from non-EU states, are designed to attract more skilled labor for all 28 member states of the bloc, which has a population of about 500 million but is faced with a challenging aging problem.
The harmonised EU entry and residence rules, approved by the European Parliament, has clarified and improved conditions for non-EU interns, volunteers, school pupils and au pairs but they will only be put into force within two years, a transition period to allow the member states to adapt national laws.
Currently, there are more 200,000 Chinese students studying for their higher education in European Union countries and roughly half of them are studying in UK, according to official figures.
"I am very happy to hear about this as now I am seeking to apply for my second masters degree in London and this will allow me more chances to stay longer in UK after my graduation in 2017," said Li Siyu, finance major in Leicester University who would graduate in September.
"So I am crossing my fingers to see if the UK still stays in the EU after the referendum next month and as an EU member, it should observe the new rules."
Currently the UK operates strict rules for graduates from non-EU countries and China Daily has learned that Chinese students are allowed at most two or three months extra after their studies end.
Some Chinese students have to apply for a tourist visa to UK if they plan to attend their graduation ceremony.
Men Jing, professor of the College of Europe in Brugge, Belgium, also welcomed the rule changes, which could help enlarge the talent pool in European countries, because they take into account the serious problem of an aging population.
"I hope this change is attractive for Chinese students as some of them want to find a job here finally," said Men, whose college offers two scholarship for Chinese students on EU-China studies.
But Men is curious as to why the European Parliament has relaxed the policy amid the growing challenges of unemployment and immigration.
Constantine A. Papadopoulos, professor of the American College of Greece welcomed the new EU Directive, which he says comes at a very appropriate time for his university.
"Like many institutions of learning around the world, we have embarked on a drive to attract even more international students because we have the resources and the advantages of a very attractive location," said Papadopoulos.
"We have seen great increases in Chinese tourists to Greece in recent years. Why not solidify this friendly relationship with something more long-lasting? After all, our two countries have strong cultural affinities. It is time we upgraded and modernized them."
According to the new European rules, the students and researchers may stay at least nine months after finishing their studies or research in order to look for a job or to set up a business, which should also ensure that Europe benefits from their skills.
And they may move more easily within the EU during their stay. In future, they will not need to file a new visa application, but only to notify the member state to which they are moving, for example to do a one-semester exchange.
Researchers will also be able to move for longer periods than those currently allowed and have the right to bring their family members with them and these family members are entitled to work during their stay in Europe.
Students will have the right to work at least 15 hours a week, according to the rules.
"I am glad that the EU recognizes the value of attracting highly skilled people to come here and to entice them to stay by creating a harmonized European system applicable in all member states, said European Parliament member Cecilia Wikstrom.
"This undoubtedly means that European universities will be able to strengthen their competitiveness on the global arena and become more attractive than ever to ambitious and highly-educated people from other countries, thanks to considerably improved conditions in the EU", she added.
To contact the reporter: fujing@chinadaily.com.cn