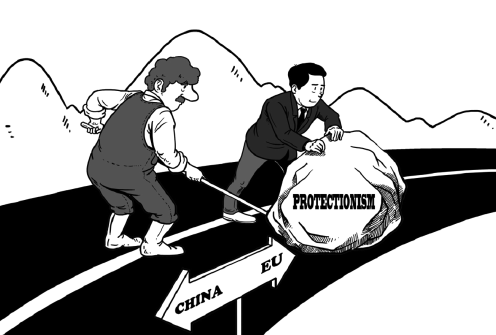 LI FENG/CHINA DAILY
The European Parliament will on Tuesday debate its members' opinions on whether to grant China market economy status, which Beijing has always claimed it should be given in the end of this year after 15 years of transition to WTO accession.
According to a European Parliament notice, the debates will generate a report, which will in turn be submitted to the European Council, the decision-making body of the 28 member states.
It is unusual that that European Parliament has competed with other European institutions to assert its influence; usually, the legislative arm of European Union would debate and vote once the decision from European Commission and European Council was made.
The European Parliament was closed on Monday for European Day celebrations and comments were not available.
European Parliament's think-tank finished a report last year, calculating the scenarios if Brussels gave China such treatment. A Washington think-tank even got involved in the lobbying efforts, warning that European countries will lose huge job opportunities if Brussels agrees to MES for China.
Though Beijing insists this is non-negotiable, the European Commission said earlier that it will submit proposal to European Council, which will make decision based on the stances of the member states. The European parliament will have the final say by voting.
Up to 100 countries in the world have already granted China full market economy status and in Europe, Switzerland and Iceland have done so while many countries such as UK and Nordic countries have pledged they will.
To contact the reporter: fujing@chinadaily.com.cn