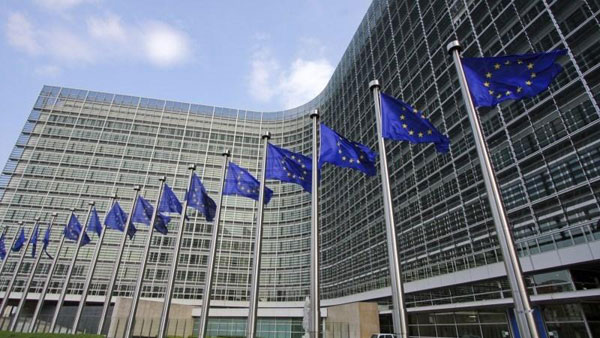 European Union flags flutter outside the EU Commission headquarters in Brussels, Belgium.
Chinese and European opinion leaders have asked Brussels to grant Beijing market economy status "without hesitation" while the European Union has begun a year-long procedure to decide whether such standing should be granted.
The European Commission, the 28-member states' executive was expected to debate among commissioners on Wednesday giving an initial decision while Beijing says it should be granted market economy status automatically on December 11 this year, 15 years after China's World Trade Organization accession.
A European Commission spokesperson responded by email to China Daily, saying that "we could not confirm this" but a reliable source confirmed the procedure had begun.
The source said the Commission will be giving preliminary assessment and then the 28 member states should be voicing their opinions on the decision. The European Parliament is expected to have the final say.
So far, the European Commission is inclined to give China such status, which will allow exports to the European market to have less chance of being charged higher anti-dumping taxes.
Fearing competitive Chinese exports may grab greater market share, the United States has been lobbying the European Union to say no.
"China should be granted market economy status for the simple reason that China's accession to the World Trade Organization made that abundantly clear," said Fredrik Erixon, director of the Brussels-based European Centre for International Political Economy.
Erixon said there is no way for Europe to maintain current practices in its trade defense investigations of Chinese companies, using companies in other markets as proxies, unless it is going to err on the wrong side of WTO law.
"There are forces in the EU that want to deny China that right, mostly for protectionist reasons," said Erixon.
He continued that there are those who think it is clever to threaten China with denied accession to market economy status in order to negotiate other trade benefits from China.
"That strategy is anything but clever," said Erixon.
Erixon has warned that it will force a political dispute with China over an issue where China already made its concessions in its WTO accession obligations - and it will prevent both sides from engaging in more meaningful discussions about a positive trade agenda between the two.
He Dongni, vice-president of the China Institute of Reform and Development said the European Union should note the fact that China has already make rapid progress in market-oriented reform while around 80 countries in the world have already granted China such treatment.
"My opinion is that the European Union should take such action as early as possible because this will help penetrate deeper into each other's markets after lifting protectionism measures," said He.
"The European Union will be benefiting for its increased market access to China, allowing it to upgrade its industrial chain".