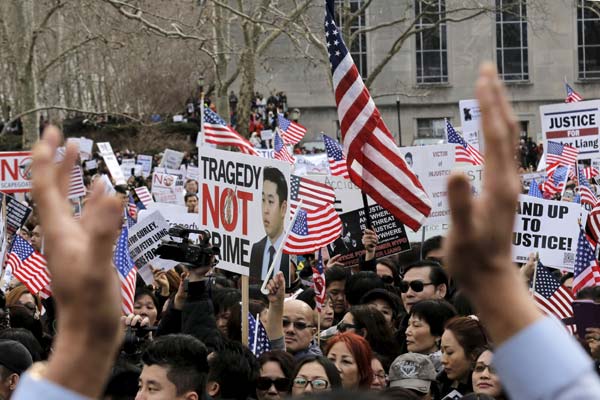 Protesters hold a rally in support of former NYPD officer Peter Liang in the Brooklyn borough of New York February 20, 2016.[Photo/Agencies]
Peter Liang, the former N­­ew York City police officer convicted of manslaughter, will be back in a Brooklyn courtroom on Thursday for the second day of a hearing for a mistrial motion by his defense team. Liang's sentencing, which was scheduled for Thursday, was postponed to April 19.
Liang's lawyers argued that juror Michael Vargas, 62, "lied knowingly and for the purpose of securing a seat on the jury".
Vargas was quoted by the New York Daily News on March 26, criticizing the decision of Brooklyn District Attorney Kenneth Thompson to recommend probation, not a prison term, for Liang.
"You cannot put away the average person's thoughts here just because they are police officers," Vargas told the paper. "They deserve to be prosecuted and sentenced just like everyone else who has the same background or committed the same crime."
He also said that his own father served more than seven years in prison for accidentally shooting a friend.
It caught the defense attorneys' attention that Vargas didn't disclose that information during jury selection, when he was asked by the judge whether he or anyone close to him had ever been accused of a crime.
"None that have made the papers," Vargas said, and when pressed, answered, "No, no."
"Did you lie during jury selection?" Liang's lawyer, Paul Shechtman, asked Vargas during the hearing on Wednesday in Kings County Supreme Court.
"I don't believe I did," Vargas said, arguing that he didn't consider his father a close family member. "He was not close to me. He never spanked me. He never raised me."
Shechtman also questioned Vargas about Facebook posts he reposted on police misconduct and about which he made comments including "Are the police a legal gang?", "Who's the one that needs help?" and "Everytime police shoot an unarmed person, they bring this country one step closer to a revolution."
Shechtman asked if Vargas wanted to be on the jury because he knew the case involved a police officer.
"I want to be on any jury that you get called from work, stop work and come to serve on the jury," he said.
Liang was convicted in February for the shooting death of Akai Gurley, 28, an African-American man, at a Brooklyn housing project in November 2014.
Liang, now 28, discharged his gun in a darkened stairwell at the housing project. The ricocheted bullet fatally struck Gurley on a lower floor.
The prosecutors will cross-examine Vargas on Thursday afternoon.
hezijiang@chinadailyusa.com