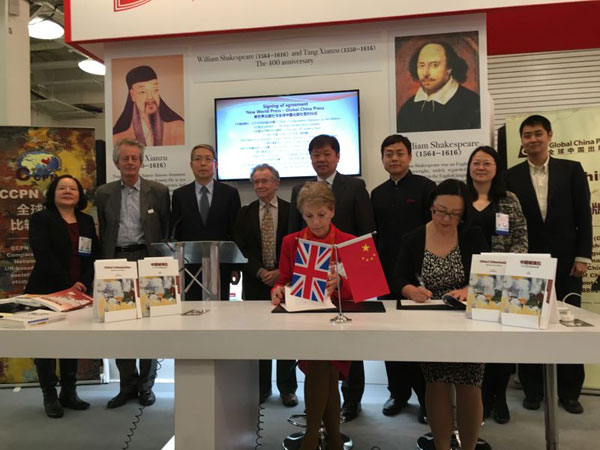 Beijing-based New World Press and its British partner, Global China Press, are to publish books on Chinese governance, Sino-EU relations and expert foreign views of China theater. [Photo by Fu Jing/China Daily]
Beijing-based publisher New World Press and its British partner Global China Press have signed a deal to publish fifteen books with topics ranging widely from China's governance structure to Sino-European relations and how outside experts view Chinese theater.
The agreement was signed on Tuesday at the start of the three-day London Book Fair. More than 100 countries are attending the event, which has attracted more than 40 Chinese publishing houses and printing works.
"To achieve better understanding of China, we are taking urgent action to negotiate with partners worldwide to publish China-themed books in an effort to update foreign readers with the latest developments in the country and introduce Chinese culture," said Fang Zhenghui, vice-president of China International Publishing Group, of which New World Press is a subsidiary.
At the fair, Global China Press, China International Publishing Group and New World Press launched English and Chinese versions of China's Urbanization: Migration by the Million. The book is edited by Xie Chuntao, professor of the Party School of the Central Committee of the CPC.
The launch marked the debut of the China Urbanization Studies series, a joint project to explore the stories behind China's impressive urbanization.
China International Publishing Group and New World Press also launched on Tuesday an English version of The Belt and Road Initiative: What Will China Offer the World in Its Rise, written by Wang Yiwei, professor of China's Renmin University.