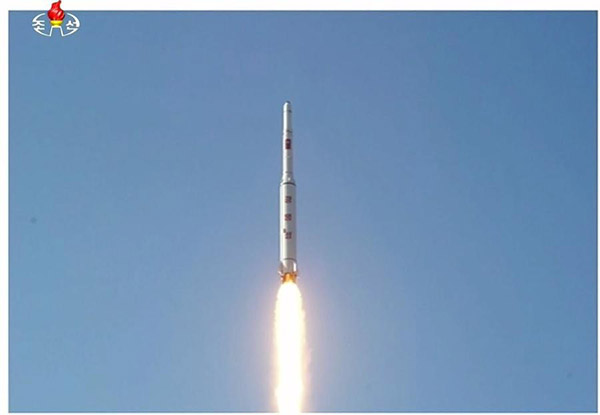 The Democratic People's Republic of Korea launches a long range rocket launched into the air in this file still image taken from KRT video footage, released by Yonhap on February 7, 2016. [Photo/Agencies]
PYONGYANG - The top leader of the Democratic People's Republic of Korea (DPRK) Kim Jong Un has overseen a successful test of a heavy-lift engine of a new-type intercontinental ballistic rocket, the official KCNA news agency reported Saturday.
The ground test was conducted at the Sohae Space Center, which is located at the DPRK's North Pyangan Province, the KCNA said, without specifying when the test was carried out.
The test proved a great success and is of significance in strengthening the country's nuclear forces and defense capabilities, said KCNA, adding that the engine of the intercontinental ballistic rocket met all scientific and technological indexes.
Kim made the order to commence the test and was satisfied with the result, saying that the success "provided a firm guarantee for mounting another form of nuclear attack upon U.S. imperialists and other hostile forces and make it possible to have access to more powerful means capable of reacting to nukes in kind."
The DPRK is now able to tip its intercontinental ballistic rockets with nuclear warheads and put the U.S. mainland within their striking range, he said.
Kim called the test "an eye-catching event" that demonstrated the DPRK's national defense potential and a victory that "glorifies the 7th Congress of the Workers' Party of Korea," which is slated for early May and considered the biggest event of the year for the country.
On March 24, state media reported that Kim guided a ground test for a heavy-lift solid-fuel rocket engine and its separation, adding that the test was successful. He said his country is well on its way to achieving its national defense goals for this year.