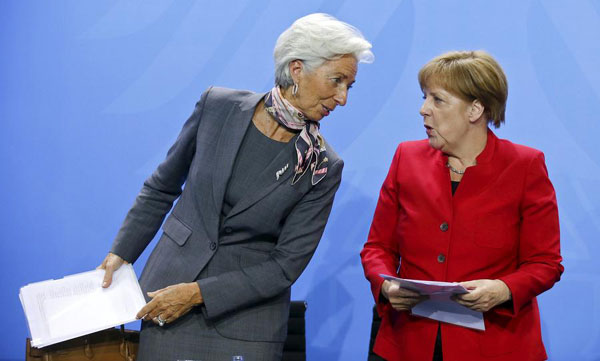 Christine Lagarde, Managing Director of the International Monetary Fund (IMF), and German Chancellor Angela Merkel attend a news conference following a meeting of the heads of international economy and finance organizations at the Chancellery in Berlin, Germany, April 5, 2016. [Photo/Agencies]
BERLIN - German Chancellor Angela Merkel ruled out a debt relief for Greece on Tuesday after meeting International Monetary Fund (IMF) chief Christine Lagarde and leaders of other global economic organizations.
"In our opinion, it is not legally possible in the euro zone," Merkel said in a joint press conference with the leaders.
A debt relief for Greece had been repeatedly rejected by German officials. Merkel's remarks on Tuesday followed a recent leak of a transcript suggested the IMF may threaten to pull out of Greece's bailout as a tactic to force European lenders to write down Greek debts.
The Washington-based IMF hasn't decided to join the third bailout worth up to 86 billion euros (about 97.9 billion US dollars) to Greece. It is waiting for review results of Greece's reform progress. On Tuesday, a new round of talks on the review started in Athens.
In Berlin, Lagarde said that "debt sustainability" was needed in Greece, urging the country to continue reforms.
Merkel told reporters that Germany wanted the IMF to take part in the bailout plan with the European Commission and the European Central Bank. The fund's participation was a condition for German lawmakers to approve the third Greek bailout last year.