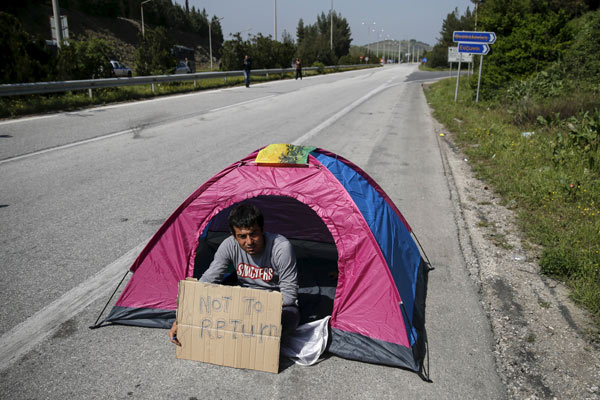 A migrant sits in a tent as other migrants and refugees block the highway near the Greek-Macedonian border near the village of Evzoni, Greece, April 4, 2016. [Photo/Agencies]
LESVOS, Greece - Less than two weeks after crossing the Aegean Sea from Turkey to Greece with the hope of starting a new life in Europe, 202 refugees and migrants were returned to Turkey from the Greek islands on Monday.

This marked a new chapter of the European refugee crisis which has seen more than a million refugees land in Europe since 2015.

As the first rays of the sun were coming up on Monday, six buses with 136 refugees and migrants arrived at the port of Mytilene, the capital of Lesvos island, where more than half of the refugee arrivals in Greece took place.

Some 350 Frontex officers assisted scores of local police, the Greek Coast Guard and security forces personnel.

Arriving at the port in the same buses, the escorting Frontex officers had their faces covered with surgical masks. The two chartered Turkish vessels "Nazli Jale" and "Lesvos" left Mytilene for Turkey shortly before 9:00 a.m. local time.
A further 66 refugees and migrants were on board another vessel which departed from Chios island.

According to a press release from the Ministry of Citizen Protection, 135 men and a woman were transferred from Lesvos to Turkey (124 from Pakistan, three from Bangladesh, one from Iraq, two from India, four from Sri Lanka and two from Syria).

Of the 66 persons returned from Chios, 56 were men and 10 were women (42 individuals from Afghanistan, 10 from Iran, six from Pakistan, one from India, one from Somalia, one from Cote d'Ivoire, and five from the Democratic Republic of Congo).

All ships were chartered by the European border control agency Frontex and each migrant and refugee was escorted by a Frontex officer to ensure their safe transfer.

The two Syrians were returned after voluntarily agreeing to the readmission, according to Yorgos Kyritsis, spokesman of the Refugees Crisis Management Mechanism which coordinates Greece's response to the refugee crisis.

Monday's process was carried out under stringent security measures, as refugees and humanitarian organizations were protesting the implementation of the EU-Turkey agreement, voicing strong doubts as to whether the refugees would receive sufficient protection.

"Turkey is not a safe country" read a banner raised by protesters who chanted slogans such as "Open the borders. Give freedom to refugees."

Under the controversial EU-Turkey deal reached in March, all migrants and refugees who reached Greece's shores illegally by sea after March 20 will be gradually deported to Turkey if it is determined they are not eligible for asylum.

Monday's first deportations were carried without major incidents, despite a few dozen activists shouting at the port of Mytilene on Lesvos island. The number of protesters, about 30, was far less than initially expected during the operation. But this could be owing to the Sunday night announcement the ships would leave around 10:00 a.m. local time.

Police sources said there had been concerns some of the people to be deported may have attempted to dive in the water.
On Chios island, dozens of the refugees and migrants who had broken out of a detention camp on Friday were hiding to avoid their readmission, while others, as on Lesvos, were protesting inside the hot spots carrying placards with slogans reading: "We do not want to go to Turkey. Set us free."

Until recently, about one million refugees and migrants who had landed on Greece's shores since early 2015 had continued their journey to central and northern Europe.