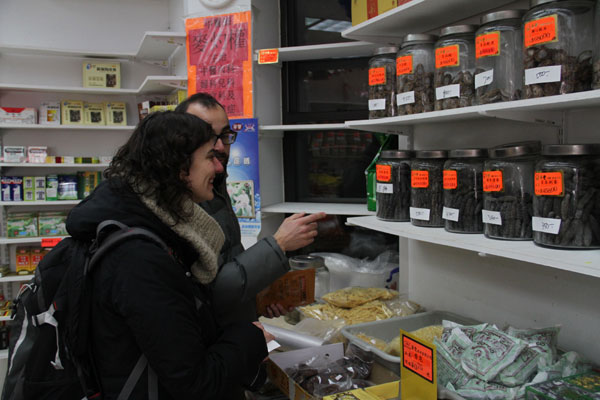 Two visitors from Spain show interest in dried sea cucumber products in a drug & food store at New York's China Town on March 1. Adelina Amado (female in front), said it was her first time to see real cucumbers in life and she would have never expect that the sea cucumbers could be high-end food beforehand. LONG YIFAN/FOR CHINA DAILY
The world is the sea cucumber's oyster.
Lin Yangjie, a senior salesman in the sea cucumber business in New York, said that at least 45 sea cucumber shops exist in New York City, and he estimates that there are at least 250 in the United States.
Sea cucumbers are echinoderms from the class Holothuroidea. They are marine animals with a leathery skin and an elongated body. Sea cucumbers' fellow echinoderms include starfish, sea urchins and sand dollars.
Lin said that about 90 percent of the sea cucumber business was transacted through physical stores and the other 10 percent online, on platforms such as Alipay and WeChat. Lin called the sites "a thriving and growing outlet of business".
Lin said that two main varieties of sea cucumber products are sold: dehydrated and ready-made and 85 percent of his business is focused on the Chinese mainland, where most of his customers live.
Using WeChat Moments, a photo-sharing function of the Chinese mobile messaging app, Lin displayed his newly launched products from Alaska and answered his clients' questions quickly.
Lin said his WeChat platform brought him at least 10 orders from China, with his assistant in China working to expand the business. The market share in both the US and China was equally split.
On Alibaba, the price of dried sea cucumber ranges from $435 to $1,000 -plus per kilogram.
"Sea cucumber is regarded as a highly nutritious and high-end food," Lin said. "Not everyone in China can afford to include it in their daily recipes."
There are two areas known for sea cucumber in North America, one is the cold waters of Alaska, and the other is the Gulf of Mexico.
Tina Fei, a sea cucumber saleswoman in New York's Chinatown, said the price of Alaskan sea cucumber was slightly higher than the Gulf of Mexico product.
Sea cucumbers from the gulf used to be at least $50 cheaper per 500 kilograms than their Alaskan counterparts, but the price gap has narrowed.
"Chinese consumers had such a big appetite for sea cucumber here that many sea areas now are closed for fishing sea cucumber," she said. "That's why the price of products of the Gulf of Mexico rose a lot, and the gap almost disappeared."
She said the offer price in China online was approximately twice the domestic price.
"The profitability is rather significant," Fei said.
When customs regulations were looser a few years ago, a visitor could bring dozens of bags of dried sea cucumbers to China at one time. Later, more shipping options such as parcels became more common.
Fei said most of the sea cucumber eaters in the US were Chinese, and that many other communities "would frown upon the idea of eating sea cucumber because it looks so thorny and jellish".
She said that more than 95 percent of her customers are Chinese and the other 5 percent were non-Chinese who had eaten sea cucumbers with their Chinese friends or families before. It seems even those non-Chinese who eat sea cucumber do so reluctantly.
Adam Chozick, a New Yorker who likes Chinese food, said he could only "accept" a well-done sea cucumber with a flavor-intensifying sauce covering up the fishy smell.
"Culture determines eating habits," Fei said.
Long Yifan in New York contributed to the story.