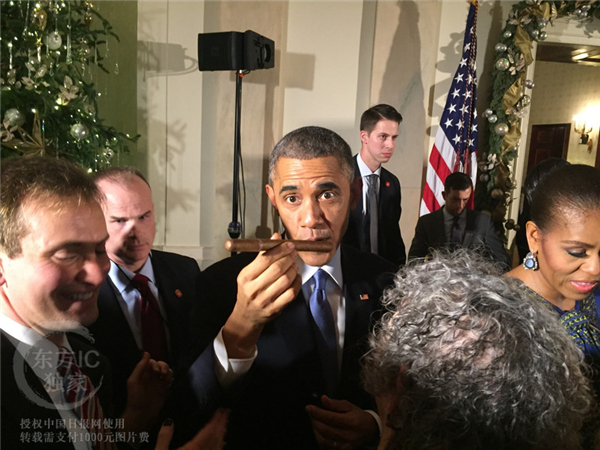 US President Barack Obama takes a whiff of a cuban cigar after one was handed to him at the White House Hanukkah party on Dec 18. [Photo/IC]
HAVANA - Milagros Diaz has been rolling cigars for 48 years, so long she cannot even smell tobacco anymore, and she is thrilled that the US market is finally opening up for her handmade Cuban "habanos".
Since US President Obama announced on Wednesday he would restore diplomatic ties with Cuba and start dismantling economic sanctions, Americans have been filing into the cigar shop at the Hotel Nacional in Havana, where she hand-rolls cigars using techniques little changed since the 19th century.
"The Americans!" she said, her face lighting up as she clapped her hands over her head. "They're not scared anymore. I'm super happy because in my 67 years I never thought I would see diplomatic relations. And we think we're going to sell more, because this is just getting started."
Cigars have been Cuba's signature product ever since Christopher Columbus saw natives smoking rolled up tobacco leaves when he first sailed to the Caribbean island in 1492.
Fidel Castro, who took power in Cuba's 1959 revolution, was often seen puffing on his favored, long and thin lancero model until he quit in 1985.
Cuban cigars are considered by many as the best in the world- brands such as Cohiba, Montecristo and Partagas - but the US trade embargo blocks their access to a market that last year imported 317.6 million premium, hand-rolled cigars.
When Obama unveiled the new Cuba policy, which aims to end more than five decades of conflict, among the first forbidden Cuban products legalized was the cigar.
Under new rules to be implemented soon, the United States will make it easier for some Americans to travel to Cuba and they will be able to return with $100 worth of alcohol and tobacco.
The restrictions could be further loosened over time.
Wholesale shipments directly to the United States would require the US Congress to lift the embargo, or for Obama to declare an exception for cigars under the Trading with the Enemy Act.
Even the preliminary steps have delighted aficionados on both sides of the Florida Straits, as well as Cubans working in the industry.
Diaz, the cigar-maker, says the extra revenue could help tobacco farmers better finance their fields and improve transportation for their workers.
With carefully dried tobacco leaves that come from western Pinar de Rio province, she twists them into a bunch and stuffs them into wooden molds that are pressed tight for at least 20 minutes. Then they are ready for the outer layer, which shecarves with a "chaveta," or half-moon shaped blade.
When she worked in the Romeo y Julieta factory in Havana, she says, she could turn out 200 in an eight-hour shift, though the pace at the hotel is a lot easier, mostly for show.
FORBIDDEN FRUIT
Cuba's government estimates the windfall from the embargo being lifted on Cuban cigars and rum would allow it to pump more than $200 million a year into social welfare programs.
Their status as "forbidden fruit" has only boosted their appeal among cigar lovers in the United States. A small black market means determined customers can find them but no one doubts there is pent-up demand.
"They have a certain cachet which makes them more desirable.... Everyone will want to try one," said David Weiss, the ownerof the Lone Wolf Cigar Company, which has two stores and a cigar lounge in Santa Monica and Los Angeles.
He said US retailers will buy directly from Cuba if sanctions are lifted, although he also warned that Cuban brands now face strong competition from other producers, especially theDominican Republic and Nicaragua.
Cuba may also struggle to meet the increased demand should the US market open completely, worrying some smokers thatprices will spike and quality slip.
Regardless, cigars are a source of great pride for Cubans. A luxury item in most of the world, here they are enjoyed by the working class. With only the best leaves used for the export market, plenty of cheap cigars are available.
Cubans, mostly men, like to chomp on them while playing dominoes or just walking down the street.
Foreign tourists, who can afford the pricey brands, flock to the former haunts of Ernest Hemingway, puffing away like Papa.
"We Cubans are chauvinistic and like to think we're the best at everything, but yes, something we can be proud of and confident in is that we have the best cigars," said restaurant owner Enrique Nuñez, a member of the Puro Humo (Puro Smoke)cigar club that meets in Havana once a month.
Nuñez cites the aroma and strength of Cuban cigars, and prefers the Montecristo.
Like many cigar lovers, the only female member of the Puro Humo club, Spanish native Pilar Fernandez, appreciates the tradition and craftsmanship that go into Cuban cigars.
"It's a work of art," Fernandez said. "It's not mechanized.
They make cigars like they did 200 years ago, with the same tools, with their hands. It's totally 19th century."