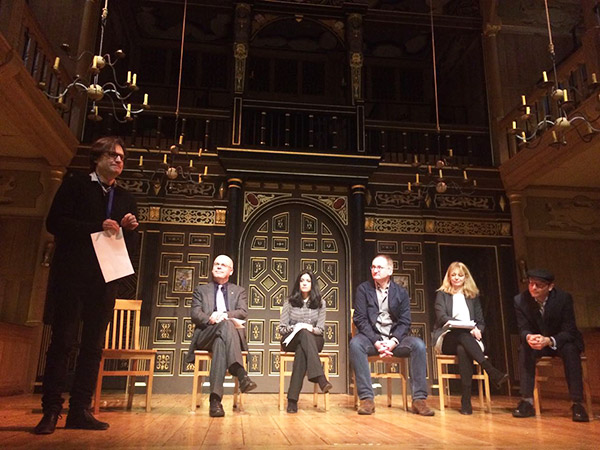 Representatives from organizations cohosting the 10th World Shakespeare Congress attend a press briefing at the Globe Theater in London, Feb 26, 2016. [Photo by Liu Jing/chinadaily.com.cn]
More than 1,000 academics, researchers and artists are expected to attend a grand ceremony this summer in the United Kingdom to commemorate William Shakespeare, 400 years after the death of the master playwright.
The 10th World Shakespeare Congress, from July 31 to August 6, will be the greatest gathering of Shakespearians anywhere in the world, according to organizers.
The event, dedicated to celebrate Shakespeare's memory and the global cultural legacy, will take place in Stratford-upon-Avon, Shakespeare's hometown, and London, where he made his name.
"Shakespeare's death 400 years ago was, in a sense, another birth: that of the on-going proliferation of his words, ideas, stories, and characters across the globe, where they have repeatedly become the occasion for new bursts of human creativity in almost every conceivable art form," said Professor Peter Holbrook, Chairman of the International Shakespeare Association (ISA).
The World Shakespeare Congress as an idea was first initiated in 1971. Since then, the event has been held by the ISA every five years in countries including the UK, the US, Germany, Japan, Spain, Australia and the Czech Republic.
"It's entirely fitting then, in this quarter centenary year, to bring Shakespeare home," Holbrook said.
The 2016 congress, titled "Creating and recreating Shakespeare", is co-hosted by the Shakespeare Birthplace Trust, Royal Shakespeare Company, The University of Birmingham's Shakespeare Institute, Shakespeare's Globe, and the London Shakespeare Centre at King's College London.
During a news briefing in London on Friday, organizers of the congress welcomed people from all around the world to take part in the celebration.
"It's not just for scholars. It's for Shakespeare enthusiasts all around the world. It's for theater goers. It's for anyone who loves Shakespeare," said Professor Gordon McMullan, Director of the London Shakespeare Center at King's College London, during the news briefing at the Globe Theatre in London.
During the congress, participants will have access to a rich series of seminars, workshops and performances. In Stratford-upon-Avon, they will have opportunities to tour the newly presented Shakespeare's New Place, the site of Shakespeare's grand family home and a candlelight visit will be arranged at the playwright's grave.
People interested in the congress can now register online at the event's official website (www.wsc2016.info). The registration closes on May 1.