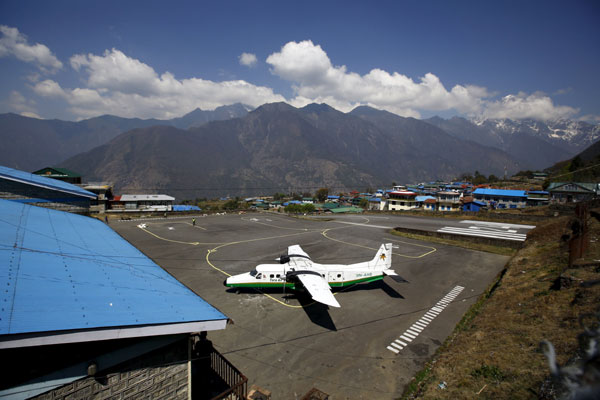 A Twin Otter aircraft belonging to Tara Air is pictured at Tenzing Hillary Airport, in Lukla, approximately 2800 meters above sea level, in Solukhumbu district, Nepal, in this file picture taken April 25, 2014.[Photo/Agencies]

KATHMANDU -- An aircraft of Tara Air was found crashed Wednesday in Nepal's Myagdi district, some 300 km off the capital, killing all 23 people on board, police said.
District Police Office Myagdi says the police located the crashed aircraft in a treacherous terrain of forest in Myagdi.
The plane has been completely destroyed by the fire after crashing with trees, said the police.
A police officer at the site told Xinhua via phone, "The plane is still burning. Some bodies are scattered outside whereas some are still inside the plane. There are no signs of lives, the bodies are not in identifiable position at all."
The aircraft was carrying 18 passengers including two infants and three crew members.
Two foreigners including a Hong Kong resident surnamed Mak and Kuwaiti national were among the 23 victims.
Tara Air, head-quartered in Kathmandu, says the Twin-Otter-400 series (9N AHH) aircraft was flying from Pokhara to Jomsom on Wednesday.
It took off at 7:50 a.m. local time but went out of contact of the control tower after nearly nine minutes.
Flying in Nepal is regarded as highly challenging due to the high terrains, unpredictable weather and poor navigation system on the ground.