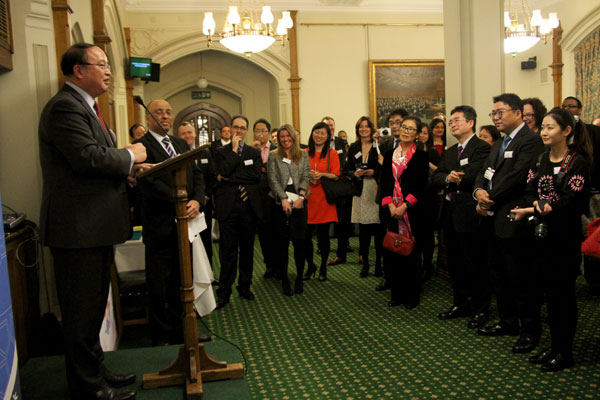 Shen Yang, minister counselor for education at the Chinese Embassy in Britain, speaks at the Chinese Lunar New Year reception at the House of Commons. [Photo provided to China Daily]
China-UK high-level talks now include nine areas compared with six three years ago, according to Shen Yang, minister counsellor for education at the Chinese Embassy in Britain.
The subjects include education, science and technology, culture, public health, sports, media, youth affairs, tourism, as well as collaboration between local authorities, Shen said at a Chinese Lunar New Year reception jointly organised by London South bank University's Confucius Institute and Petroineos Trading Limited at the House of Commons Tuesday night, attended by about 100 people.
The reception was aimed at enhancing business engagement between universities and corporations.
The 3rd China-UK high-level dialog was held in London last year and the next one will be held in Beijing, with both countries looking to further expand the collaboration.
"Education collaboration continues to be the highlight, and students' mobility in two different directions continues to grow in a rapid speed," said Shen, adding 200 Chinese football and rugby coaches will be sent to the UK to train.
Shen is fully confident that 2016 will be another great year for China-UK relations, saying "we will certainly make the best use of the golden era and strive for collaboration in all levels and all fields."
As co-organizer of the reception last night, LSBU's Confucius Institute is the world's first Confucius Institute for Traditional Chinese Medicine and more broadly, promotes Chinese language, culture and wellbeing.
David Phoenix, Vice Chancellor of LSBU, whose ties with China stretch back 15 years, said "I have seen at first hand the benefit of cultural exchange but also what can be achieved by bringing the people together from the UK and China, once you identify their joint ambitions."
To contact the reporter: wangmingjie@mail.chinadailyuk.com