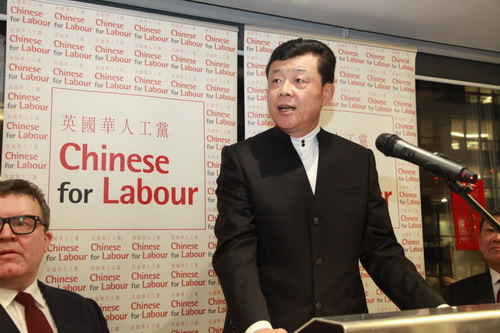 Chinese Ambassador to UK Liu Xiaoming says China's continuous growth benefits UK and the world at a Spring Festival reception hosted by Britain's Labour Party at its head office in London on Tuesday. (Picture provided to China Daily)
Liu Xiaoming, Chinese Ambassador to UK, said China's service sector has, " for the first time in history" contributed to more than half of the country's economic output, and a restructured and resilient economy will power the growth of UK and the rest of the world.
Addressing a Spring Festival reception hosted by Labour Party at its head office in London on Tuesday, Liu said 2015 saw a steady growth of 6.9 percent in China and in particular, consumption contributed 66.4 percent and the service sector accounted for 50.4 percent of China's total economy.
"This was the first time in history that more than half of China's economic output was from the service sector. This advance was driven by new industries and businesses emerging at a faster pace," said Liu.
Labour Party leaders Jeremy Corbyn, Tom Watson, Sonny Leung and other guests attended the reception held on the second day of China's lunar New Year.
"A new year brings a new beginning. As we gather to mark this new beginning, we can all be full of expectations for the year ahead," said Liu.
"My first expectation is for China's continuous growth. This is important not just for Chinese people. It means China's continuing and potentially greater contribution to the global economy."
He said the good news for the UK and the world is that China remains a powerhouse of the world economy, contributing more than a quarter of global growth last year.
Liu said 2016 will mark the start of China's 13th Five Year Plan and to achieve high-quality, efficient and sustainable growth, China will follow through five new development concepts, which include innovation, balanced growth, green economy, opening-up and inclusiveness.
He said China's economy is resilient and much more potential remains untapped and more space can be opened up for further growth.
"China is both confident and capable of advancing structural adjustment. China is able to grow at a medium-to-high rate and inject greater momentum into world economic growth and global development," said Liu.
As to Sino-UK relations, he said 2016 is the opening year of the "Golden Era" following President Xi Jinping's successful visit to the UK last October. The two countries announced the building of the China-UK global comprehensive strategic partnership for the 21st century.
"This year, we should build our efforts around fully implementing the outcomes of President Xi's visit and should strengthen high-level exchanges, promote result-oriented cooperation," said Liu.
To achieve so, he expected the Labour Party to play an even bigger role in advancing China-UK relations.
Last October, during his state visit to the UK, Xi had a fruitful meeting with Corbyn and the shadow cabinet. "Looking into this New Year, we hope to work closely with the Labour Party to build stronger China-UK ties in the era," said Liu.
To contact the reporter: fujing@chinadaily.com.cn