China-UK trade consolidates as countries build partnership
By Wang Mingjie ( chinadaily.com.cn )
Updated: 2016-01-26 18:14:32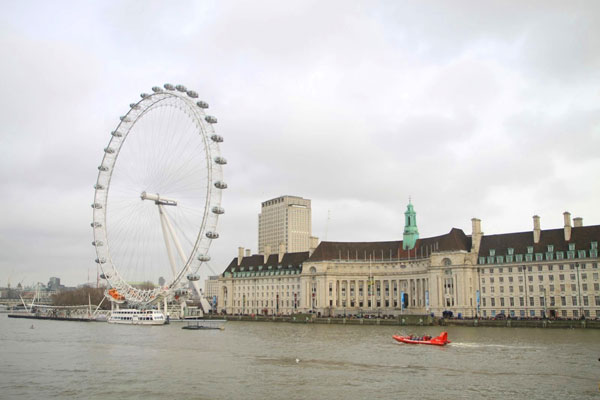 London Eye and the River Thames. [Photo/chinadaily.com.cn]
Bilateral trade between China and the UK in 2015 is consolidating as the two countries commit to building a global comprehensive strategic partnership for the 21st Century, according to a Chinese senior diplomat.
The Sino-UK economic collaboration was given a boost when President Xi Jinping made a state visit to the UK last October, the first by a Chinese leader in a decade, during which over 30 commercial deals worth 40 billion pounds ($57 billion) were agreed, says Jin Xu, minister counsellor of the economic and commercial officer of China's embassy in Britain.
The deal between China's General Nuclear Power Corporation (CGN) and EDF Energy was signed in the presence of Chinese President Xi and Prime Minister David Cameron during the State Visit and formed part of an 18 billion pounds investment program.
With 6 billion pounds of investment, CGN will take 33.5 percent of the Hinkley Point C nuclear plant in Somerset, which was the largest single inward investment ever brought to Britain from China. It was also the first time that Chinese business made an investment on nuclear plant in a developed country.
The global economic slowdown in 2015 has taken its toll on international trade as a whole and China was no exception. China's total import and export volume dropped 7 percent from the same period in 2014 whilst trade volume with European Union was down 8.2 percent.
Despite the overall difficulty and complication in trade last year, bilateral trade between China and the UK still reached $78.54 billion, only dipped 2.9 percent, reflecting the complementary nature and great potential of relations between two countries.
The UK remains China's second largest trading partner in the European Union whilst China stands the second largest of the UK outside the EU.
Trade mainly involved valued added goods, such as vehicles, aviation and communications systems in which electro-mechanical products accounted for over 40 percent of China's total export to the UK, making China Britain's biggest supplier of such goods.
The past year saw some major mergers and acquisitions in the UK from Chinese investment, totalling 22 deals, Jin says.
Zhuzhou CSR Times Electric Co bought UK-based subsea equipment manufacturer, Specialist Machine Developments Ltd, for about 229 million pounds ($326 million).
Geely unveiled 300m pounds ($427.6 million) investment in new R&D and manufacturing facility for London Taxi Company in preparation for the introduction of the next generation electric and ultra-low emission Black Cab.
The Chinese footwear retailer C.banner International Holdings took over the 255-year-old British toy retailer, Hamleys, from France's Ludendo Groupe, which has owned the chain since 2012, for 100m pounds ($142.6 million)
According to Jin, finance, energy, property, research and development centres, healthcare, aviation and retail are among popular sectors for Chinese companies investing in the UK.
In September, HNA Group, the parent company of China's privately-owned Hainan Airlines, acquired 30 South Colonnade, a landmark office building in Canary Wharf, one of London's major financial districts.
Ping An Life Insurance (Group) Co of China Ltd in January 2015 took over another landmark site, Tower Place in the City of London, after it bought the Lloyds of London building a year and half ago.
Jin also says that China-UK financial ties are being further enhanced as London is set to become the main offshore RMB centre.
In 2015, the Exchange-Traded Fund (ETF) of China Construction Bank was listed on the London Stock Exchange, which was the first LSE listed RMB denominated money market ETF which can be traded and settled in RMB, sterling or the euro.
People's Bank of China issued 5 billion yuan-denominated one-year bonds in London, the first ever to be issued outside of China and Hong Kong, which was seen as a major boost for London as an international financial centre and the main western trading hub for the yuan.
Last October, Agricultural Bank of China completed its debut sale of $1 billion dual currency bonds in London, the first "green bond" from a Chinese bank, which are usually issued to fund environment-friendly projects.
Jin is confident Sino-UK trade and economic relations will remain steady this year as bilateral relations are further deepened and both nations complement to each other in trade.
China's economic rebalance will not only boost its own growth but also offer greater opportunities for China-UK economic collaboration, Jin says.
To contact the reporter: wangmingjie@mail.chinadailyuk.com

We will not give up search, Li vows
International hunt for missing airliner continues after fruitless six-day search