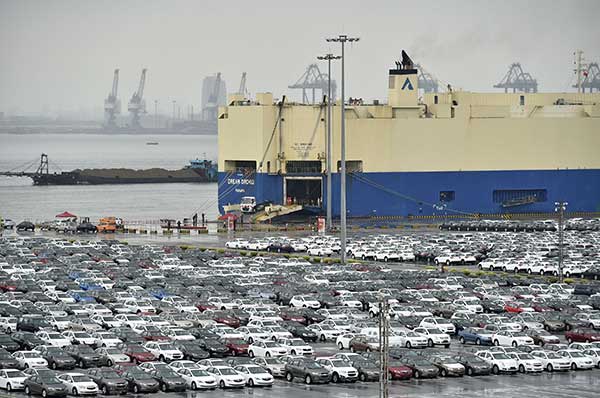 A tanker unloads vehicles imported from Japan at a port in Guangzhou, Guangdong province, in September. Liang Xu / Xinhua
The export hub of Guangdong province aims to see positive growth in exports of 1 percent this year, despite the continued downward pressure on the country's foreign trade, according to a government work report released on Monday.
The economic powerhouse set its growth rate during the 13th Five-Year Plan (2016-20) at 7 percent, maintaining "medium-to-high speed" development, Guangdong Governor Zhu Xiaodan said as he delivered the report at the annual local legislative session, which opened in Guangzhou, the provincial capital.
The province saw its GDP grow by an average 8.5 percent a year during the 12th Five-Year Plan (2011-15).
"We will deepen the readjustment of our economic structure, and transform and upgrade the real economy to establish a new industrial system that is competitive in the world," Zhu said.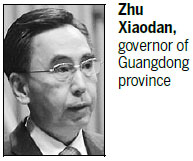 The province had an annual growth rate of 7.3 percent in exports from 2011-15. The value of exports hit 4 trillion yuan ($615 billion) in 2015, an increase of 0.8 percent year-on-year, while the country's exports dropped by 1.8 percent.
Guangdong, which contributed to 28.3 percent of the country's gross export value last year, will be able to maintain positive growth this year, according to Chen Wanling, director of the research center for international trade and economics at Guangdong University of Foreign Studies.
"Guangdong has been adjusting the product mix and type of trading for its exports as well as diversifying target markets since the 2008 financial crisis. The years of effort have achieved initial success and helped the province keep a steady growth in exports," Chen said.
"Products with higher added value are on the rise," he said.
Although the volume of exports to traditional markets such as Hong Kong, Europe, the United States and Japan is decreasing, Guangdong is seeing trade with South Korea, which has signed a free-trade agreement with China, grow quickly. It also has the potential for growth in trade with Southeast Asian nations, Chen said.
This year will be crucial to the transformation of China's export structure, as the country changes from a major exporter of consumer goods to a major exporter of high value-added products and complete sets of equipment, Zhi Luxun, deputy director-general of the department of foreign trade at the Ministry of Commerce, said on Monday.