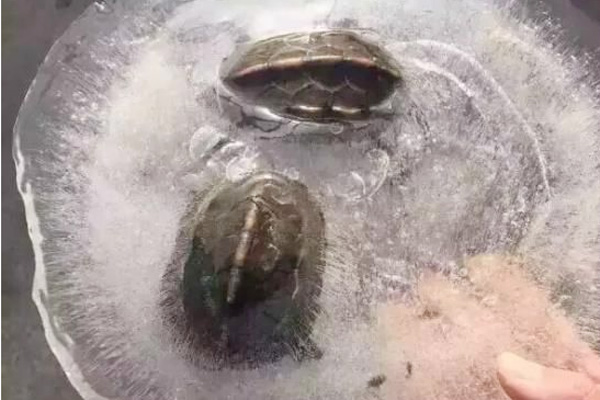 Two frozen tortoises. [Photo/Wechat]
Dongzhule (frozen) became a hot topic on Chinese social media and ranked among the most-searched words on China's top search engine Baidu during the weekend when the temperature reached record low in many places.
Some iPhone users claimed that the battery of the phones automatically drained off when they tried to use their device in the freezing weather. An Internet user named wanmei said the phones automatically turn off when the weather is too cold as the phone's ideal operating temperature is between 16 and 22 degrees Celsius.
A picture of two frozen tortoises in a tank began circulating on instant messaging app WeChat. Many Internet users expressed their concern about the two animals.
While some questioned where the animals' owner was and why the tortoises were left alone, an Internet user named zuiai said the tortoises may be in hibernation, since some are prone to hibernate in cold weather, while another Internet user named yuanshan expressed worry that the frozen animals may die because they can't breathe.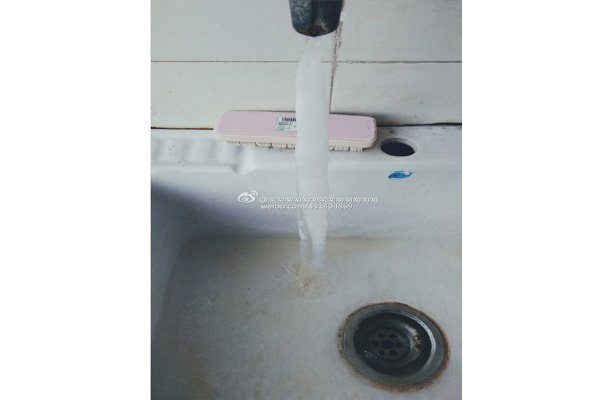 A frozen tap at a student dormitory in Jiangsu University, Zhenjiang city, East China's Jiangsu province. [Photo/weibo.com]
On China's Twitter-like Sina Weibo, a combo photo consisting of nine pictures of frozen things caused by the cold wave was reposted 39,494 times, with 18, 929 comments and 59,062 likes after it was published at 11:09 am on Sunday.
Among many commenting on the frozen goldfish, the frozen towels and other things, an Internet user named invincible said: "I can't say anything because my mouth is frozen".
Many Internet users also shared photos of frozen delivered goods under a weibo topic with hashtag #frozen delivered goods.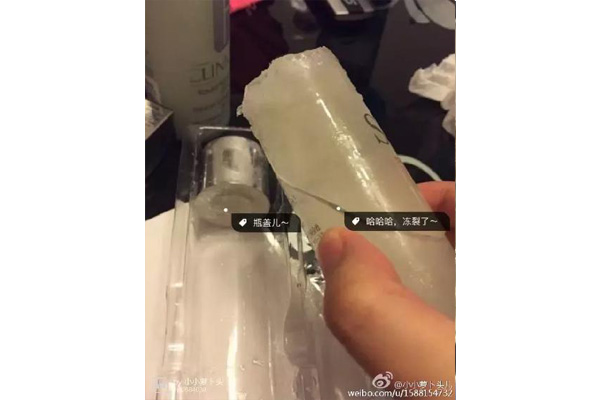 A liquid cosmetic is frozen. [Photo/weibo.com]
After seeing frozen liquid cosmetics and other products, an Internet user named BD10 said: "I finally can purchase ice cream online this winter", a comment that received 992 supports, and a weibo user named elchole said: "I strongly suggest the shippers put some heating pads in the packages to keep the goods from freezing", while another weibo user named leialei said: "I am wondering whether I can still use the cosmetic products once they are defrozen in a microwave oven."
Luckily, online shopping enthusiasts in northern China needn't worry too much since the temperature in some parts of Northeast China has risen, according to the National Meteorological Center on Sunday.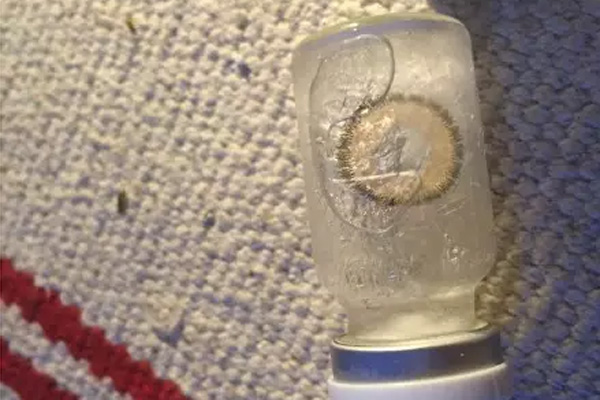 A cosmetic lens purchased online is frozen. [Photo/weibo.com]
However, the extreme cold weather affecting South China on Sunday will stay until Tuesday.
Guangzhou city welcomed its first snow in 67 years on Sunday afternoon, East China's Shanghai endured the lowest temperature in 35 years on Sunday morning with a low of minus 7.2 degrees Celsius, while Hong Kong residents, accustomed to a subtropical climate, shivered in the temperature reported to be the lowest point in nearly 60 years.