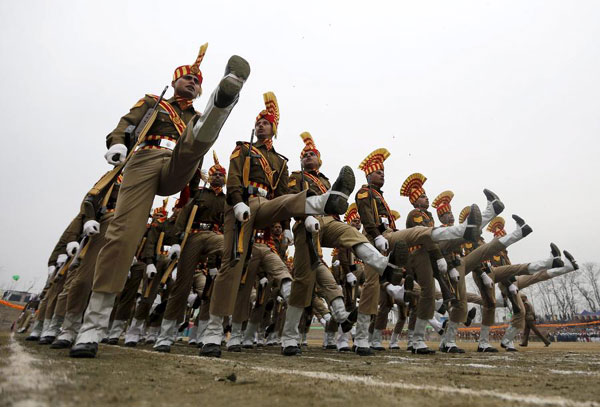 India's Border Security Force (BSF) soldiers march during India's Republic Day parade in Srinagar January 26, 2016. [Photo/Agencies]
NEW DELHI - India on Tuesday displayed its military might at its 67th Republic Day parade in the national capital, with French President Francois Hollande as the chief guest.
The parade started in the morning under unprecedented security that included deployment of 5,000 policemen and 15,000 para-troppers, anti-aircraft guns and around 1,000 snipers amid terror threats.
The Indian Army, Indian Air Force and the Indian Navy displayed their tanks, guns, air craft and models of warships and submarines on Raj Path, an iconic road at the heart of the national capital.
Indian President Pranab Mukherjee took salute from the passing forces at the parade, while Prime Minister Narendra Modi and the French president looked on.
Tableax of various Indian states were put on display, alongside the military, as the nation glued on to TV sets to watch the celebrations.
Though the parade this year was shorter as there were fewer marching contingents, a contingent of French soldiers added to the colours of celebrations.
The marching contingents were led by the French 35th Infantry Regiment that was deployed in India between 1781 and 1784.
Indian Vice President Hamid Ansari, the country's main opposition Congress president Sonia Gandhi and senior Indian ministers all were present on the occassion.
Gallantry awards were also given to families of martyrs of the Indian armed forces and children by the Indian president.
The parade ended with spectacular displays by fighter jets of the Air Force, and the presidential bodyguards escorted the Indian president and his French counterpart back to Rashtrapati Bhawan.
The French president, who had arrived in India on Sunday on a three-day tour, will wrap up his visit and leave for Paris later in the day.