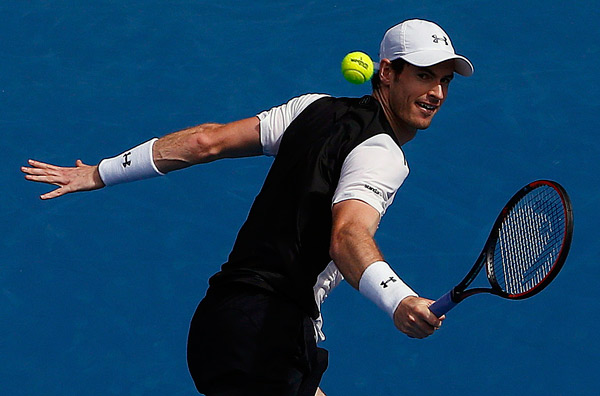 Britain's Andy Murray hits a shot during his second round match against Australia's Sam Groth at the Australian Open tennis tournament at Melbourne Park, Australia, Jan 21, 2016. [Photo/Agencies]
MELBOURNE - World No 2 Andy Murray quickly hushed parochial Australian fans baying for a major upset on Day 4 of the Australian Open, demolishing starstruck local hope Sam Groth in straight sets.
In his first appearance on Rod Laver Arena (RLA) on Thursday, the late-blooming Australian - best known for producing the fastest serve ever recorded in tennis history - was given an unceremonious welcome by the Brit.
The two-time Grand Slam champion Murray, who went Slam-less last year, didn't give Groth an inch - or a game in the first set, for that matter - winning 6-0, 6-4, 6-1 in an hour and 29 minutes.
Murray said he went looking for blood after Groth, 28, inadvertently let him in on just how unfamiliar the surrounds of centre court were to the big-serving local.
"I was standing right next to him in the locker room and he said to someone: 'This is my first time on Rod Laver (Arena), I've never even hit on it before'. So I was like 'OK great, that's good for me'," said a slightly bemused Murray postmatch.
"I remember when I played my first match on centre court ... and it's very different to the outside courts."
Groth's usually reliable serve betrayed him in the first set, with the number-two ranked Brit able to break the Australian seven times.
"He didn't start the match off serving so well, which helped me. And then when he picked his serve up in the second set it became much tougher," Murray, 28, said courtside.
Earlier, the Day 4 session began with a distinguishable lack of star power, with the draw deprived of Rafael Nadal, Simona Halep and Venus Williams following their surprise first-round departures.
Making the most of their absence, 2008 Australian Open runner-up Anna Ivanovic was thrust into the spotlight on RLA, and scored a 6-3, 6-3 win over Latvian Anastasija Sevastova. In a relatively uneventful match, all the drama unfolded off the court.
A medical emergency in the stands, involving a spectator who apparently slipped while descending the stadium's stairs, kept players patiently waiting courtside for 35 minutes for play to resume.