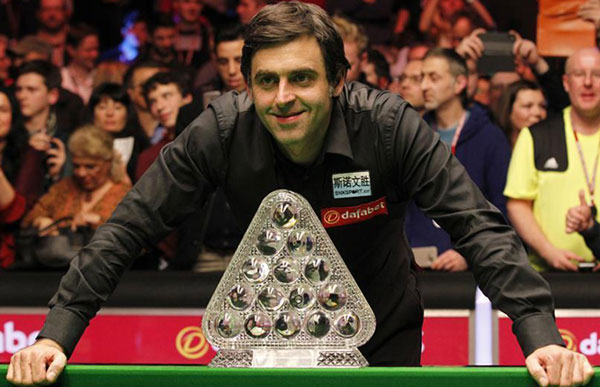 Ronnie O'Sullivan of England poses with his trophy after the final with Barry Hawkins of England at the Snooker Masters 2016 in London, England on Jan. 17, 2016. Ronnie O'Sullivan won 10-1. [Photo/Xinhua]
LONDON -- Ronnie O'Sullivan won his sixth Masters title after breezing past Barry Hawkins 10-1 in the final at the Alexandra Palace here on Sunday.
O'Sullivan, also a five-time world champion, had previously won the event in 1995, 2005, 2007, 2009 and 2014, equaling the record set by Stephen Hendry.
The 40-year-old lost the first frame but took control and gave no chance to Hawkins, whom he defeated in the world championship final in 2013.
"I was pleased with the way I approached the game from the off," said O'Sullivan. "I kept my focus, my discipline and my temperament, and tried to control all the things that you can control."
He added, "It's unbelievable to win six titles, and I've lost in five finals so I could have had a few more.
"This gives me massive confidence because it shows that I don't have to be at the top of my game as long as I'm mentally on the ball," he said. "I got lucky that no one played their best against me this week."