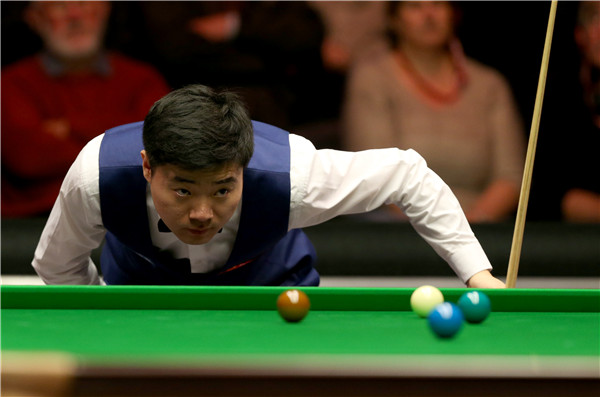 Ding Junhui of China considers a shot against Stuart Bingham of England during Day One of the Dafabet Masters at Alexandra Palace in London, England, Jan 10, 2016. [Photo/CFP]
LONDON - Chinese star Ding Junhui was defeated in the first round for the fifth year in a row in the snooker Masters at the Alexandra Palace in London on Sunday.
The former world No. 1, who won the event in 2011, was beaten by world champion Stuart Bingham 4-6.
The 39-year-old Bingham, who has never won a match in his career at the Masters, missed out on a 147 break after a missed yellow cost him his chance at a maximum.
The Englishman fought back from one frame down to lead 3-1 before Ding took the next two frames to level at 3-3.
Bingham won the seventh frame 80-5 then Ding levelled the score again with a break of 71. Bingham won the next two to seal the victory.
"I played better than the last match," said a disappointed Ding braving tears. "I don't know what is wrong with me."
He also lost in the first round at the UK Championships last month.
Bingham said, "It was very scrappy today luckily I managed to get through to the quarterfinals. I am over the moon to get through."