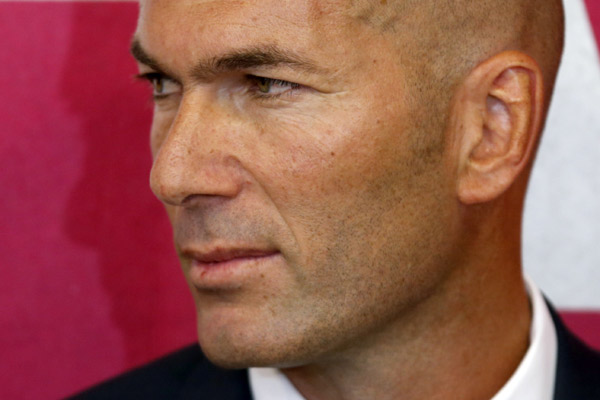 Former French soccer player Zinedine Zidane attends a dictation to school children in support of ELA, European Leucodystrophie Association, at a primary school in Paris, France, October 12, 2015.  [Photo/Agencies]
Zinedine Zidane's appointment as Real Madrid coach in place of Rafa Benitez has handed the club's former France great his chance to follow up a stellar career on the pitch with management success at the highest level.
Benitez, experienced but unpopular, was abruptly dismissed on Monday less than halfway through the season after an indifferent run of results left the club trailing leaders Atletico Madrid and second-placed Barcelona in La Liga.
Fan hero Zidane, an elegant figure in stark contrast to his frumpy predecessor, has been promoted from his job as coach of the B team, who play in the third tier of Spanish soccer.
It will be the 43-year-old French World Cup winner's first top-flight management role.
The pressure to deliver at a club that expects a regular stream of major silverware will be huge and it remains to be seen whether the decision by club president Florentino Perez to discard Benitez and hand the reins to the relatively green Zidane will pay off.
Benitez, 55, replaced Carlo Ancelotti at the end of last season after the Italian failed to deliver any of the three main titles in 2014-15, marking the Spaniard's return to the club where he began his coaching career in the youth ranks.
However it quickly became clear that his reputation as a detail-obsessed and excessively defensive tactician, whether deserved or not, did not sit well with the Real fans.