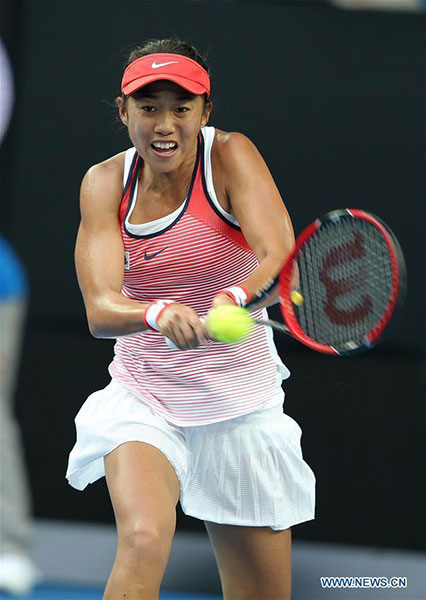 China's Zhang Shuai competes against Romania's Simona Halep during the first round match of women's singles at the Australian Open Tennis Championships in Melbourne, Australia, Jan. 19, 2016. Zhang Shuai won the match 6-4, 6-3. [Photo/Xinhua]
MELBOURNE - China's Zhang Shuai has staged possibly the biggest upset of the 2015 Australian Open to date, defeating world number two Simona Halep in straight sets on Tuesday.
Zhang, 26, thrashed 31 winners past her heavily favored opponent, in the 6-3, 6-4 first-round win over the Romanian.
Zhang, who had slipped to world number 133 in the rankings after being as high as 30 in 2014, revealed she had been contemplating retirement late last year because of poor form.
"Yeah the last few months I'm already (my ranking) 200. So very tough," Zhang told reporters late on Tuesday night.
"I was feeling very sad, everyday. I almost retired.
"But so many people helped me. My coach, my parents ... my national team, my sponsor always try to give me more motivation.
"But I didn't think (within) two month's that I could win (against) a top-two player."
"It' s feeling like dream come true."
Zhang has form against high-ranked opposition. In 2009, the Chinese player knocked then world number one Dinara Safina in the China Open as a wildcard entrant.
Halep - a quarter-finalist at the Australian Open over the past two years - heaped praise on Zhang, but admitted she gave her opponent too many chances to play her shots.
"I think it wasn't my good day, but I give her (Zhang) a lot of credit because I think she played really well."
"She played without fear and she hit every ball. So she had good rhythm.
"I think I played a little bit too short, in the first set - and then she was dominating me.
"I tried to change, I tried to stay (in the match) ... but she beat me - she was just better today."
"It's tough, I'm really disappointed."
Zhang, who was watched on by both her parents for the first time in her entire career, was visible emotional after breaking through for her first win in a Grand Slam in 14 attempts.
The 26-year-old said it was a relief to put all those losses behind her.
"Always on centre court I play really good," Zhang said.
"It's exciting. There's so many people watching the match, so I feel more relaxed.
"I (was feeling) no more nerves ... because (I had) nothing to lose so I played 100 percent."