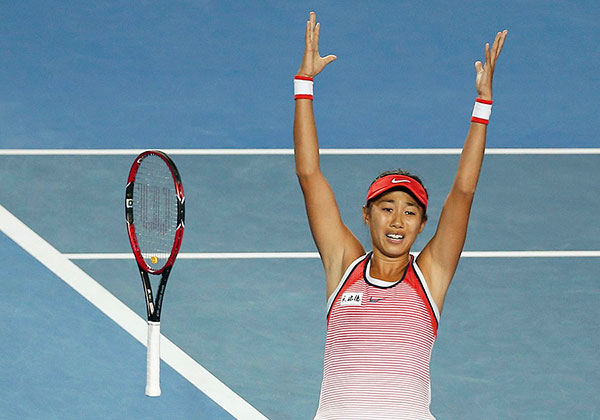 China's Zhang Shuai celebrates after winning her fourth round match against Madison Keys of the US at the Australian Open tennis tournament at Melbourne Park, Australia, January 25, 2016. [Photo/Agencies]
Chinese tennis fans had an emotional night as Chinese qualifier Zhang Shuai, who contemplated retirement after losing all 14 of her previous Grand Slam matches before arriving in Melbourne this year, fought her way into the quarterfinals with a seven-game winning streak to become the fourth Chinese to do so.
A user of Weibo, China's version of Twitter, wrote that she was so moved that she sobbed when watching Zhang play, adding that persistence leads to success in the end. Another Weibo user said Zhang Shuai, who emerged from her cocoon as a butterfly, could finally enjoy the delight of victory.
A Reuters report commented that Zhang, who has never won a grand slam match in 14 attempts before Tuesday, continued to confound skeptics when she extended her remarkable run at Margaret Court Arena.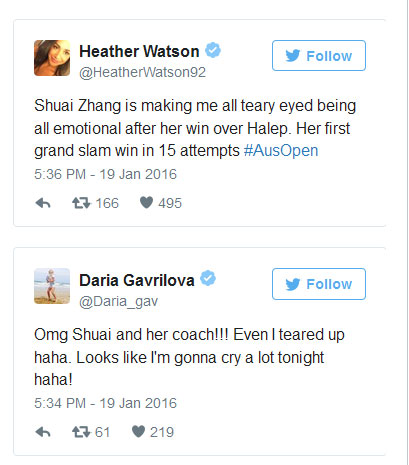 Tennis player Heather Watson said on Tweeter that she was made "all teary eyed being all emotional" after Zhang's winning. Daria Gavrilova said she teared up and would cry a lot.
Zhang Shuai, who turned 27 on Thursday, started playing tennis at age six.
She was beaten by Aleksandra Wozniak in the first round of the 2012 Australian Open, which marked her seventh first round loss in a Grand Slam tournament.
Zhang will next play Johanna Konta in this Australia Open.