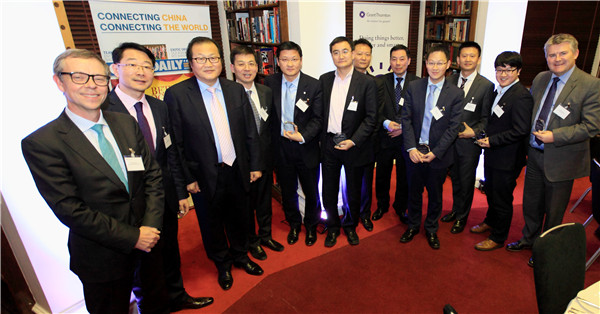 Chinese firm representatives received awards at Tou Ying 2015 Top 25 tracker dinner in London, presented by Jin Xu, minister counselor of the economic and commercial office of China's embassy (third from the left), Jan 14, 2016. [Photo by Jiang Shan/China Daily]
Chinese firms are accelerating their rate of expansion into the UK, demonstrated by the Tou Ying 2015 Top 25 tracker results released at an award dinner in London on Thursday.
The tracker, in its third year, showed that total revenue for the 25 fastest-growing Chinese companies in the UK in 2014 reached 35 billion pounds, up from 25 billion pounds in 2013 and 17 billion pounds in 2012. Together they employ more than 2,500 people.
Their growth pointed to the vibrant and flourishing UK-China trade and investment relationship, which received a major boost from Chinese President Xi Jinping's state visit to the UK in October, during which around 40 billion pounds ($58 billion) in deals were signed.
The tracker, compiled by the accountancy firm Grant Thornton, in collaboration with China Daily, showed that the growth of the top 25 companies in 2014 was 44 percent, higher than last year's average of 38 percent. In comparison, the UK's economy grew by 2.6 percent in 2014, the fastest pace since 2007.
Jin Xu, minister counselor of the economic and commercial office of China's embassy in Britain, said the UK is a country of choice for Chinese investment. "Chinese companies are expanding into the UK with focus on localization and sustainable long term development. They have achieved tremendous results, and fulfill their social responsibility, they contribute to the UK's economic growth and create employment."
Jin said four major trends of Chinese investment into the UK in 2015 are infrastructure investment, high technology manufacturing and R&D investment, financial services investment and property investments.
Jin said the potential for bilateral cooperation in research and development, services industries and infrastructure are immense, as the UK has much unique expertise that could help China achieve the necessary structural shift to achieve sustainable growth and internationalization.