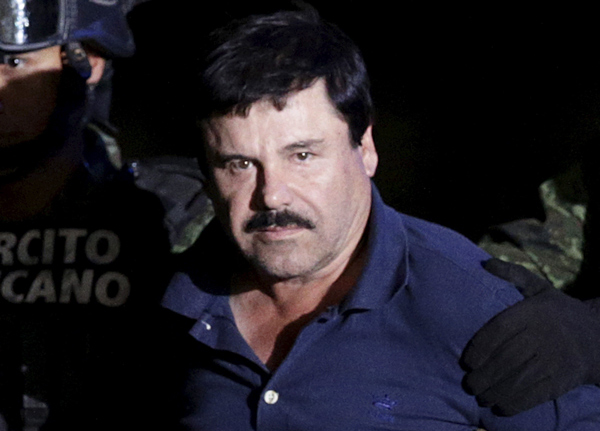 Recaptured drug lord Joaquin "El Chapo" Guzman is escorted by soldiers at the hangar belonging to the office of the Attorney General in Mexico City, Mexico in this Jan 8, 2016, file photo. [Photo/Agencies]
MEXICO CITY - Mexican drug kingpin Joaquin "El Chapo" Guzman is being treated worse in prison than Adolf Hitler would have been, one of his lawyers said Wednesday.
"He's denied access to his family, he's denied access to his lawyers, he's denied access to the most basic things .... He can't eat, he can't sleep ... even if they had captured Adolf Hitler alive, they wouldn't be treating him as they are treating Mr. Guzman," lawyer Jose Luis Gonzalez Meza said in an interview with Mexico's Radio Formula.
Gonzalez maintains his client has been held "totally incommunicado" since he was readmitted to a maximum security prison in central Mexico, following his capture early Friday during a raid on his hideout in Los Mochis, Sinaloa, his home state.
Authorities did say they have beefed up security at the facility to prevent Guzman escaping for a third time, including reinforcing cell floors with metal railings.
Guzman last escaped the prison in July, through a long tunnel leading from his cell to a safe house located 1.5 kilometers away. He managed to elude a camera trained on the cell's interior by ducking behind a low wall separating the bunk from the bathroom.
Authorities later detained about a dozen prison officials believed to have helped him break out, and installed more security cameras.
"There is an elite team personally watching him 24 hours a day with cameras, there are no more blind spots inside the cell," government spokesman Eduardo Sanchez said, according to the daily El Universo.
Sanchez said Guzman is also being constantly and randomly moved from cell to cell, at times staying several days or even just several hours in a single spot.
Mexico's Interior Minister Miguel Angel Osorio Chong denied accusations Guzman was being mistreated, according to news magazine Proceso.
In a separate radio interview, Chong said Guzman had been visited by a member of his legal team Tuesday, and his rights were being respected.
"We're not going to make the mistake of violating due process and hand him an excuse to find a possible way out," said Chong.