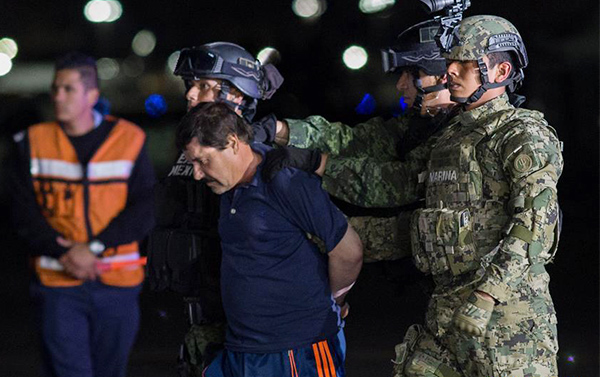 Photo taken on Jan 8, 2016 shows security forces members escorting the drug trafficker Joaquin Guzman Loera, alias "El Chapo" Guzman (C), at the hangar of the Attorney General of the Republic, in Mexico City, capital of Mexico. [Photo/Xinhua]
LOS MOCHIS, Mexicon - Mexico aims to extradite drug lord Joaquin "Chapo" Guzman to the United States after security forces recaptured the fugitive cartel leader who blew his cover through a series of slip ups, including an attempt to make a movie about his life.
The Mexican Attorney General's office will be working as fast as possible to establish the path to extradition, and Chapo could be sent to the United States by mid-year, a source familiar with the situation said on Saturday. However the timing might depend on injunctions filed by Guzman's legal team.
Guzman, the world's top drug smuggler and boss of the powerful Sinaloa Cartel, is wanted by US authorities on a host of criminal charges. His organization has smuggled billions of dollars worth of drugs into the United States and is blamed for thousands of deaths in Mexico and the United States due to addiction and gang warfare.
"The objective is to fulfill the extradition request," another source said.
Guzman's dramatic capture in the town of Los Mochis on Friday followed a six month-long intelligence operation during which the drug lord relaxed his security just enough to allow authorities to pick up his trail.
Among his errors, Guzman got in touch with people in the film industry to have them make a "biopic" movie of his eventful life journey from rural poverty to untold wealth and dramatic jailbreaks.
"Another important aspect which helped locate him was discovering Guzman's intention to have a biographical film made. He contacted actresses and producers, which was part of one line of investigation," Mexico's Attorney General Arely Gomez said.
Perhaps more importantly, Gomez said security forces also identified a expert in digging tunnels in Guzman's circle who was outfitting houses in the states of Sinaloa and Sonora.
Authorities caught wind of that and began carefully watching a house in Los Mochis, Sinaloa. They spotted unusual activity when a vehicle pulled up before dawn on Jan 7, and intelligence officials confirmed Guzman was on the property.
A raid followed. Mexican Marines chased Guzman and his chief hitman through a drain and then nabbed them as he tried to flee by car.
The United States requested Guzmans extradition in late June, just a couple of weeks before his brazen escape from a maximum security prison through a mile-long tunnel which burrowed right up through the floor of his cell.