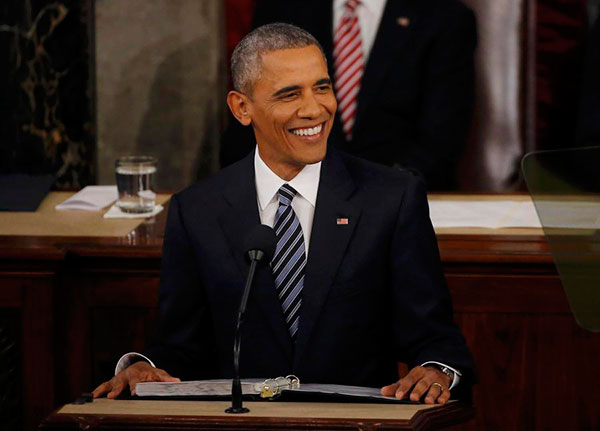 US President Barack Obama smiles as he delivers his State of the Union address to a joint session of Congress in Washington, January 12, 2016.[Photo/Agencies]
WASHINGTON - President Barack Obama accused critics on Tuesday of playing into the hands of Islamic State by comparing the fight against the militant group to World War Three, in an address aimed at laying out an optimistic vision of America's future.
Obama, who is delivering his last State of the Union speech to Congress before leaving office next year, said it was fiction to declare the United States was in economic decline or getting weaker on the international stage, despite rhetoric from Republican presidential candidates vying to replace him in the Nov. 8 election.
"Masses of fighters on the back of pickup trucks and twisted souls plotting in apartments or garages pose an enormous danger to civilians and must be stopped. But they do not threaten our national existence," Obama said, according to prepared remarks.
"That's the story ISIL wants to tell; that's the kind of propaganda they use to recruit. We don't need to build them up to show that we're serious, nor do we need to push away vital allies in this fight by echoing the lie that ISIL is representative of one of the world's largest religions," he said, referring to Islamic State by an acronym.
The remarks were a repudiation of Republican criticism of his strategy against Islamic State and, not so subtly, of Republican front-runner Donald Trump's call to temporarily ban Muslims from entering the United States.
The address is one of Obama's few remaining chances to capture the attention of millions of Americans before November's election of a new president who will take office next January.
Obama apparently has delivered on his promise to keep this year's speech shorter: The text of his speech unofficially comes in at 5,438 works versus 6,776 in his 2015 speech.
The White House is once again making the full text of the State of the Union available online ahead of the speech, as prepared for delivery, continuing efforts to meet people where they are and make the speech as accessible as possible.
President Obama's 2016 State of the Union Address
Mr. Speaker, Mr. Vice President, Members of Congress, my fellow Americans:
Tonight marks the eighth year I've come here to report on the State of the Union. And for this final one, I'm going to try to make it shorter. I know some of you are antsy to get back to Iowa.
I also understand that because it's an election season, expectations for what we'll achieve this year are low. Still, Mr. Speaker, I appreciate the constructive approach you and the other leaders took at the end of last year to pass a budget and make tax cuts permanent for working families. So I hope we can work together this year on bipartisan priorities like criminal justice reform, and helping people who are battling prescription drug abuse. We just might surprise the cynics again.
But tonight, I want to go easy on the traditional list of proposals for the year ahead. Don't worry, I've got plenty, from helping students learn to write computer code to personalizing medical treatments for patients. And I'll keep pushing for progress on the work that still needs doing. Fixing a broken immigration system. Protecting our kids from gun violence. Equal pay for equal work, paid leave, raising the minimum wage. All these things still matter to hardworking families; they are still the right thing to do; and I will not let up until they get done.
Read more at whitehouse.gov.