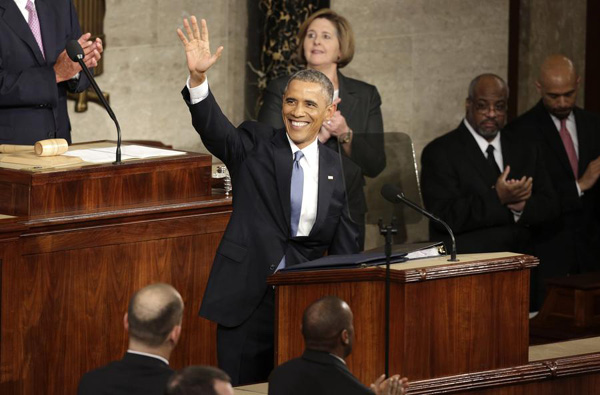 US President Barack Obama waves at the start of his State of the Union address to a joint session of the US Congress on Capitol Hill in Washington in this January 20, 2015 file photo. [Photo/Agencies]
WASHINGTON - President Barack Obama is expected to deliver his final State of the Union speech Tuesday evening. It is believed that he will sum up the legacy of his mandate and speak of the country's future.
With one year remaining in Obama's second and final term, the president will not present a to-do list of what he'd like to accomplish in the year ahead, unlike in his previous speeches.
Because it would be futile to present a meaningful agenda before a Republican-controlled Congress, Obama will instead set the tone for his successor.
"What I want to focus on in this State of the Union address is not just the remarkable progress we've made, not just what I want to get done in the year ahead, but what we all need to do together in the years to come," said Obama in a video message sent to supporters last week.
Nevertheless, the president's speech will cite achievements made during his mandate, according to Obama's chief of staff, Denis McDonough.
The nuclear deal with Iran, resumed diplomatic relations with Cuba, contributions to the global climate pact and an Asia-Pacific trade deal will be touched upon.
For the widely watched gun-control bids, many expect the president to give a share of his speech to the topic before a captive Congressional audience.
"I think there will be a lot of demagoguery on guns and things like that," said House Speaker Paul Ryan in an interview with Wisconsin radio station WTMJ on Monday.
However, the president doesn't expect his speech to impact his push for stronger firearms controls. "It won' t happen during this Congress. It won' t happen during my presidency," Obama said of comprehensive gun control legislation in a speech Tuesday.
Analysts say that should Obama take executive action on gun control, it would simply be the beginning of what could be more comprehensive reform in the future.