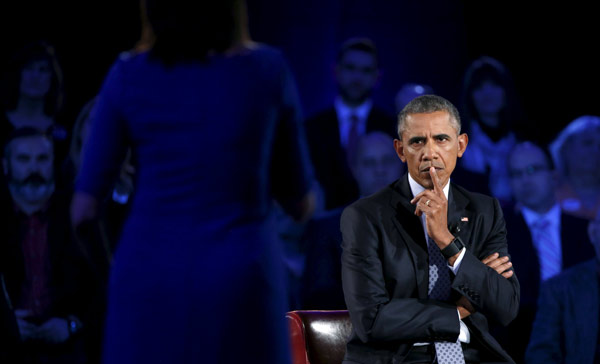 US President Barack Obama listens to remarks from Taya Kyle, widow of US Navy SEAL Chris Kyle, as he participates in a live town hall event on reducing gun violence hosted by CNN's Anderson Cooper at George Mason University in Fairfax, Virginia, January 7, 2016. [Photo/Agencies]
WASHINGTON - US President Barack Obama participated in a town hall meeting hosted by the US TV network CNN Thursday night, defending his executive orders aimed at curbing gun violence in the country.
Obama rejected as "imaginary fiction" the claim that he wanted to take away the guns of law-abiding Americans, reiterating that he respects the Second Amendment of the Constitution and the right to bear arms.
"Our position is consistently mischaracterized," Obama said. "If you listen to the rhetoric, it is so over-the-top, it is so overheated."
He also disputed the notion that most criminals acquired guns illegally or through personal connections, making background checks -- a major focus of his policy initiative on firearms -- of little utility.
"All of us can agree that it makes sense to do everything we can to keep guns out of the hands of people who would do others harm, or themselves harm," he said.
Obama unveiled on Tuesday a series of executive measures on gun control, including expanding background checks, and called for "a sense of urgency" about gun violence.
Anybody in the business of selling firearms must get a license and conduct background checks or be subject to criminal prosecution, Obama said at the White House. He was joined by gun control activists and the families of gun victims.
He said his administration will hire more people to process background checks to make the system more efficient and add 200 more agents and investigators to ensure the "smart and effective" enforcement of gun safety laws.
Representatives of the National Rifle Association, a major opponent of Obama's gun-control measures, declined to participate in the town hall event and instead took to Fox News to blast Obama, according to CNN.