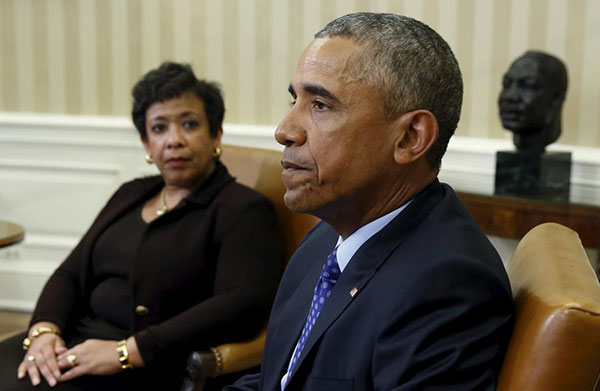 US Attorney General Loretta Lynch (L) looks toward US President Barack Obama during a meeting with other top law enforcement officials to discuss what executive actions he can take to curb gun violence, in the Oval Office of the White House in Washington January 4, 2016.[Photo/Agencies]
WASHINGTON - The White House unveiled gun control measures on Monday that require more gun sellers to get licenses and more gun buyers to undergo background checks, moves President Barack Obama said were well within his authority to implement without congressional approval.
The US Bureau of Alcohol, Tobacco, Firearms and Explosives now will require that people who sell guns at stores, at gun shows or over the Internet be licensed and conduct checks, officials said. The ATF was finalizing a rule requiring background checks for buyers of dangerous weapons from a trust, corporation or other legal entity as well.
Obama, speaking to reporters before the measures were made public, said they were consistent with the US Constitution's Second Amendment, which protects the right to bear arms.
"These are not only recommendations that are well within my legal authority and the executive branch, but they're also ones that the overwhelming majority of the American people, including gun owners, support," Obama said during a meeting with Attorney General Loretta Lynch and other advisers.
Obama is igniting a political firestorm by bypassing Congress with the measures, which could spark legal challenges. Republicans say Obama is misusing his powers.
Shares in gun makers Smith & Wesson Holding Corp and Sturm Ruger & Co Inc rose against a falling stock market on Monday in anticipation of increased gun sales, as has happened before when the White House mulled weapon sales reform.
Stymied by Congress' inaction on gun control, the president asked his advisers in recent months to examine new ways he could use his executive authority to tighten gun rules unilaterally after multiple mass shootings generated outrage nationwide.
The White House had drafted a proposal on licenses previously but was concerned it could be challenged in court and hard to enforce.
Guns are a potent issue in US politics.
The National Rifle Association, the top US gun rights group, is feared and respected in Washington for its ability to mobilize gun owners. Congress has not approved major gun-control legislation since the 1990s.
Attorney General Loretta Lynch said the administration did not have an estimate of the number of people who would be affected by the changes.
She did not set out a numerical threshold for dealers, telling reporters on a conference call that people selling one or two guns at a flea market could considered be dealers. But she said hobbyists and collectors would still be exempt from registration requirements.
Obama said the measures would not prevent every mass shooting or violent crime, but they did have the potential to save lives. The president is scheduled to give remarks about gun control at 11:40 am EST (1640 GMT) on Tuesday.