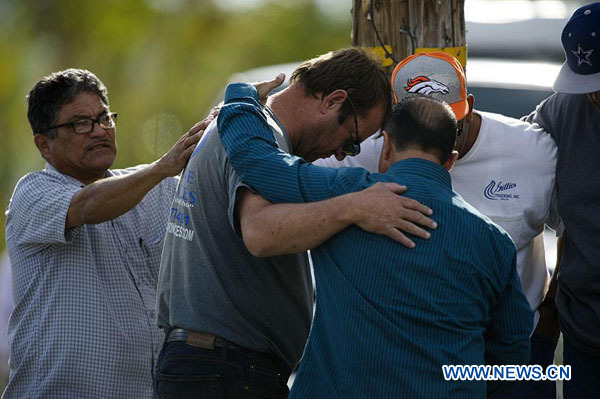 Local residents hug each other to show support near the spot where Wednesday's police shootout with suspects happened in San Bernardino, California, Dec 3, 2015. The two suspects in Wednesday's mass shooting at San Bernardino City of Southern California were heavily armed, police said on Thursday. [Photo/Xinhua]
WASHINGTON - The shooting spree in Southern California on Wednesday was the 353rd mass shooting in the United States in the past 336 days so far this year, according to a database that tracks mass shootings in the country.
This is how often shootings involving four or more people being shot but necessarily killed occurred in the United States this year, revealed the database shootingtracker.com based on compilations of news reports.
By that criteria, the tracker said Wednesday's shooting rampage at a San Bernardino social services center, which killed at least 14 people and injured 21 others, was the 353rd mass shooting so far this year.
On average, more than one mass shooting incident happened every day in the United States in 2015, the tracker showed.
The San Bernardino rampage, the worst so far in the year, also was the country's deadliest mass shooting since the Newtown, Connecticut, school tragedy three years ago that left 26 children and adults dead.
Many of the mass shooting incidents compiled by the tracker did not grab headlines and for those who did become a national breaking news, they soon sank into obscurity to new incidents.
The following are other high-profile mass shooting incidents which happened in 2015.
On Nov 27, a gunman shot down three people and injured nine others at a family planning clinic in Colorado Springs, Colorado.
"We have to do something about the easy accessibility of weapons of war on our streets to people who have no business wielding them," US President Barack Obama said in a statement after the incident.
"Period. Enough is enough," he said.
On Oct 1, nine people were killed and nine more injured in a campus shooting at Umpqua Community College in southern Oregon.
The gunman, 26-year-old Chris Harper-Mercer, was shot dead after an exchange of gunfire with police forces. After initial investigation, authorities said the Oregon gunman had a cache of 13 weapons, body armor and ammunition.
Hours after the shooting, grim-faced Obama slammed Congress and gun-rights lobby groups for obstructing reforms of gun control laws.
On June 17, nine people were killed at an African-American church in Charleston, South Carolina, in what the authorities described as "a hate crime" by a white gunman.
After the incident, while calling for reforms of gun control policies in the United States, Obama also issued sharp remarks about ingrained racism in the country.
"The legacy of slavery, Jim Crow, discrimination in almost every institution of our lives, you know, that casts a long shadow, and that's still part of our DNA that's passed on," Obama said in an interview with comedian Marc Maron for his popular podcast "WTF."
"We're not cured of it," said Obama. "Societies don't overnight completely erase everything that happened two to 300 years prior."
Following the 2012 school mass shootings in Newtown, Connecticut, which claimed 26 lives, including 20 children, the Obama administration initiated but failed to push stronger gun control laws.
The laws, whose sections included expanded background checks and bans on assault weapons, were stymied in Congress after staunch opposition from Republican lawmakers and gun-rights lobby groups.
During his presidency, Obama has been confronted with more than a dozen of high-profile mass shootings, and in an interview earlier this year he called the failure to reform US gun laws "one of the greatest frustrations" of his presidency.
"If you ask me where has been the one area where I feel that I've been most frustrated and most stymied, it is the fact that the United States of America is the one advanced nation on Earth in which we do not have sufficient common-sense gun safety laws, even in the face of repeated mass killings," Obama told BBC in an interview in July.