14 killed in shooting at Calif. party
At least two heavily armed attackers opened fire on a banquet at a social services center for the disabled in San Bernardino, California, on Wednesday, killing 14 people and seriously wounding more than a dozen others in a precision assault that looked "as if they were on a mission," authorities said.
Hours later, police hunting for the killers riddled a black SUV with gunfire in a shootout two miles from the late-morning carnage, and a man and woman with assault rifles, handguns and "assault-style clothing" were killed, San Bernardino Police Chief Jarrod Burguan said.
A third person who was spotted running near the gunbattle was detained, but Burguan said it was unclear if that person had anything to do with the crime.
It was the nation's deadliest mass shooting since the attack at a school in Newtown, Connecticut, three years ago that left 26 children and adults dead.
Police shed no light on the motive for the massacre, but David Bowdich, assistant director of the FBI's Los Angeles office, said the bureau is looking at several possibilities, including workplace violence and terrorism. He did not elaborate.
The attackers invaded the Inland Regional Center and began shooting around 11 a.m. They opened fire in a conference area that the San Bernardino County Department of Public Health had rented out for a banquet, said Marybeth Feild, president and CEO of the nonprofit center.
Police spokeswoman Sgt. Vicki Cervantes said witnesses reported seeing one to three gunmen.
"They came prepared to do what they did, as if they were on a mission," the police chief said.
Burguan said that someone had left the county employees' event after "there was some type of dispute," but investigators were not sure whether that had anything to do with the subsequent massacre in the Southern California city of 214,000 people about 60 miles of Los Angeles.Authorities also found a potential explosive device at the social service center.
As gunfire echoed through the large three-building complex, several people locked themselves in their offices. desperately waiting to be rescued.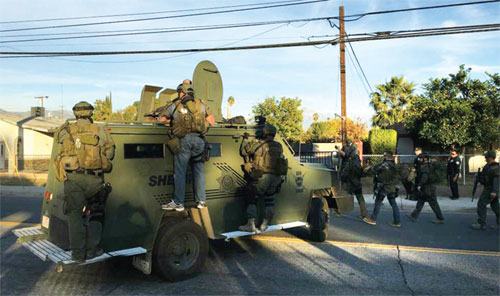 A SWAT team searches a church after a shooting in San Bernadino, California, on Wednesday in which 14 people were killed. Mike Blake / Reuters