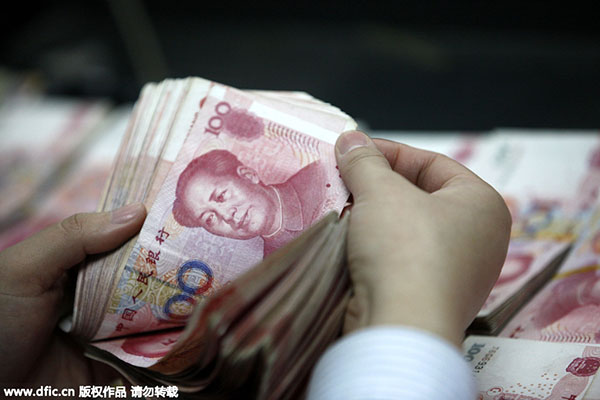 A Chinese clerk counts yuan banknotes at a bank in Huaibei city, East China's Anhui province, January 22, 2015.[Photo/IC]
China's central bank issued its first offshore renminbi bond in London on Tuesday, in a move that marks a milestone in plans to deepen the offshore renminbi liquidity in London.
The deal was announced today and will be marked by a lunch taking place in London tomorrow to coincide with President Xi Jinping's first state visit to the UK.
Those present will include Xiaohui Zhang, Assistant Governor of the People's Bank of China, Bo Li, Director-General of Monetary Policy Department at the PBoC, Chris Salmon, an executive director of the Bank of England and Mark Boleat, chief of policy for the City of London.
The dim sum bonds are worth 5 billion renminbi ($787 million), with an interest rate of 3.1 percent, and fall due in 2016. This is the first time that renminbi government bonds have been issued outside China, in an attempt to open up an offshore renminbi debt market.
Industrial and Commercial Bank of China (ICBC) and HSBC are joint global coordinators of the deal. Linklaters acted as legal advisor.
William Liu, Capital Markets partner at Linklaters, said that the purpose of the issue is to increase the supply of high quality bonds in the offshore renminbi market, increase the supply of high quality high grade collateral,to establish a benchmark interest rate, as well as facilitating renminbi bond issuance and trading.
"It is significant that the UK was chosen ahead of possible launches in Europe and the US for the deal and sends a strong signal about the attractiveness of London as a global financial centre," Liu said.
In recent years, London has led the way for many offshore renminbi bond issuances, with the first a HSBC dim sum bond issued in 2012.
Since then, many other banks have issued offshore renminbi bonds in London, with the latest been bonds issued by China Construction Bank and Agricultural Bank of China in London earlier this month.
Of particular significance is the International Monetary Fund's issuing of the first ever renminbi green bond in London last year. Green bonds are a special type of debt instrument where the proceeds contribute towards environmentally friendly projects.
The initiative for PBoC to issue the dim sum bond in London follows on discussions from the UK-China seventh Economic and Financial Dialogue in September, where a series of financial cooperation between the two countries were announced.
To contact the reporter: cecily.liu@mail.chinadailyuk.com