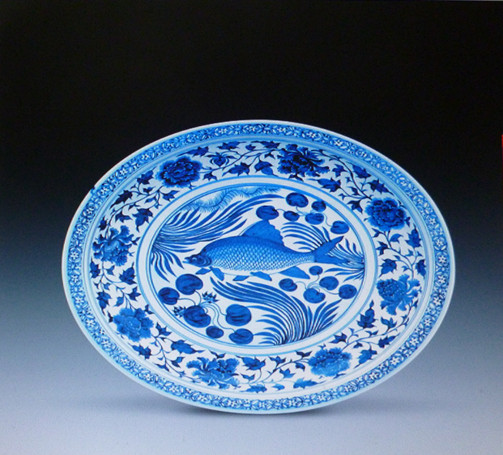 Porcelain. [File photo]
Britain now has the largest Chinese population of any country in Europe, at 500,000 out of a population of about 64 million.
A number of Confucius Institutes have been set up to promote Chinese language learning. The first of these in Britain was at SOAS in 2006 and the network has now expanded to 24 institutes at universities and colleges of higher education across Britain.
The number of Britons learning Chinese has grown hugely, albeit from a tiny base. In 2013, Chinese was the fourth most popular language at Advanced Level (the main pre-university examinations) for pupils, with 3,300 pupils entering compared with 4,200 for German and 11,000 for French.
Lu said, "More and more British parents send their young children to weekend Chinese school, which was originally established to cater to the needs of overseas Chinese families. Mandarin Chinese has also been added to the secondary school curriculum in many parts of the UK since last year. And even Chinese teaching methods were tested in UK classrooms. This year's BBC documentary 'Are Our Kids Tough Enough? Chinese School' aroused heated debates among hundreds and thousands of TV viewers."
And in the fields of arts, there is a growing interest from the British in Chinese culture, with films and literature finding new audiences.
Lu said, "Chinese literature and cinema have also added flavor to British cultural life. Chinese diasporic writer Guo Xiaolu's 'A Concise Chinese-English Dictionary For Lovers' was shortlisted for the Orange Prize for Fiction 2007; films by directors such as Hou Hsiao-Hsien and Jia Zhangke have been regularly screened in British Film Institute (BFI) London Film Festivals for years and in Chinese Visual Festival since 2011. If we turn our attention to the design industry, it is not hard to find Chinese elements in fashion and interior decoration."
And the number of students from China studying in Britain has boomed. Last year, the total hit about 60,000 Chinese undergraduates starting their first year of study at a UK university, a figure several thousand higher than the number of students starting studies from all European nations.
This bodes well for the growing influence of Chinese culture on Britain, as young Chinese students form a means by which their British and European colleagues can understand both the very latest Chinese trends and the depth and richness of a culture that is about 5,000 years old.
Related:
Top 10 highlights in China-UK Year of Cultural Exchange