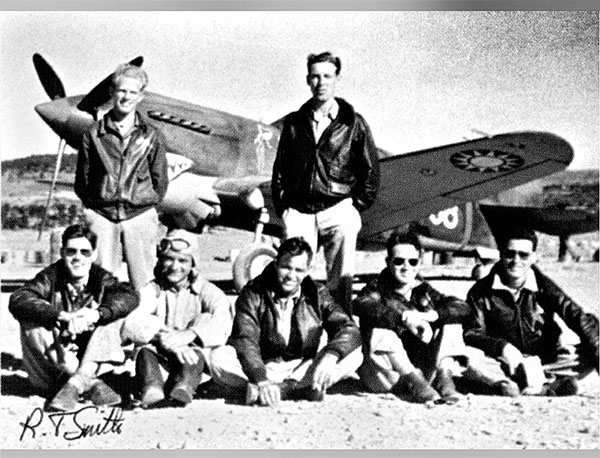 Members of the 1st American Volunteer Group, better known as the Flying Tigers, gather for a group photo at Zhijiang airport in Hunan province during World War II. [Photo/Xinhua]
Between August 1941 and July 1942, the Flying Tigers, the American Volunteer Group (AVG) led by General Claire Chennault, harassed the Japanese forces from the air.

The pilots were all former members of the US Army Air, Navy or Marine Corps, who, under the provisions of an executive order signed by President Roosevelt on April 15, 1941, resigned their US military commissions in order to serve in China.
Claire Lee Chennault (September 6, 1893 – July 27, 1958) was a retired US Army Air Corps officer who had worked in China since August 1937, first as military aviation advisor, then as director of a Chinese Air Force flight school centered in Kunming.
The original Flying Tigers were the 100 American pilots and 250 American ground crews. The group consisted of three fighter squadrons, named "Adam and Eves", "Panda Bears" and "Hell's Angels", of around 30 aircraft each.

The members of the group were officially members of the Chinese Air Force and had contracts with salaries ranging from $250 a month for a mechanic to $750 for a squadron commander, roughly three times what they had been making in the US forces.

About one dozen of the fliers and more than 30 of the ground crew are still living.