Flying Tigers show lands in DC
A group of Chinese peace lovers from Yunnan province is on a 35-day tour around the US to honor the Flying Tigers - the American pilots who flew in China's air force against the Japanese - as part of the commemorations of the Chinese People's War against the Japanese Aggression and the 70th anniversary of the end of World War II.
"We are here to celebrate the friendship between China and the US," Jeff Greene, director of the Sino-American Aviation History Heritage Foundation, said at the opening of an exhibit entitled Welcome Home, Flying Tigers, From Beautiful Yunnan, Second Hometown of Heroes in Washington on Tuesday.
"I hope people understand how important this is to both of our countries," Greene said.
The program, which includes a display of 300 items once used by the soldiers and a performance of Yunnan traditional dances, celebrates the memory of the Flying Tigers as well as the culture of Yunnan province.
The collection includes helmets, belts, badges, compasses and shavers and around 20 model aircraft, all on loan from collectors, according to Greene.
In 1941, Claire Lee Chennault, a retired US military officer, formed the 1st American Volunteer Group of the Chinese Air Force, nicknamed the Flying Tigers, in Kunming, the capital city of Yunnan. It recruited pilots from the US Army Air Corps, Navy and Marine Corps.
They helped the Chinese fight the Japanese occupation forces during WWII, with most of their battles taking place in Yunnan province.
"We want to be good citizen-ambassadors," Wei Xiuning, president of Yunnan Flying Tigers Research Institute, said.
Wei reminded everyone that former Chinese president Hu Jintao once said that the Chinese people would never forget the Flying Tigers, who risked their lives to help the Chinese.
US President Barack Obama also said the American people would never forget that when the Japanese shot down Flying Tigers, the Chinese people rescued and saved them.
"Our hope is that by showing the pictures and exhibits, more and more people will know about the stories and sprit of the Flying Tigers," Wei said.
"We want this to be a bridge for the growth of the friendship between China and the US," Wei added.
Wei Xiuning is the daughter of Wei Lihuang, one of China's most successful military commanders in WWII.
The program is jointly authorized by Sino-American Aviation History Heritage Foundation, the American Camellia Cultural and Educational Tour, Yunnan Flying Tigers Research Institute and the Hong Kong War History Research Association.
The group has already been to Los Angeles, San Francisco, Dallas, and Chicago. Their next and last stop is New York.
On Sept 3, a group of Flying Tiger veterans will go to Beijing, where they'll meet President Xi Jinping, according to Greene.
Zhang Andi in Washington contributed to this story.
leshuodong@chinadailyusa.com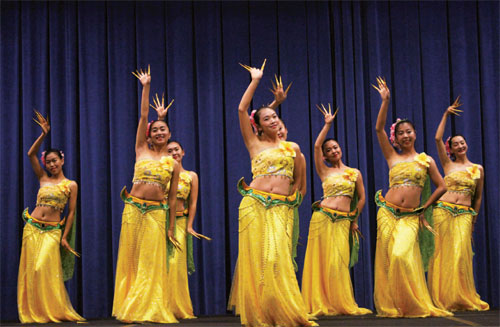 Yunnan dancers perform a traditional routine at Cultural Exhibition from Beautiful Yunnan, the Second Hometown of Heroes in Washington on Tuesday. Andi Zhang / for China Daily