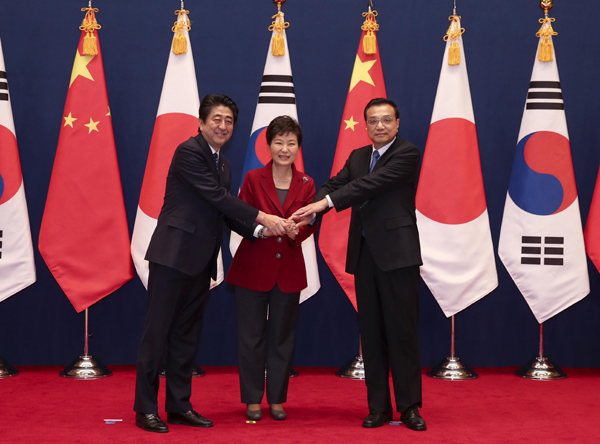 Chinese Premier Li Keqiang (right), Japanese Prime Minister Shinzo Abe (left) and South Korean President Park Geun-hye (center) shake hands during the sixth China-Japan-ROK trilateral meeting in Seoul, Nov 1, 2015. [Photo/Xinhua]
Premier Li Keqiang said future cooperation between China, Japan and the Republic of Korea must be based on the proper-handling of historic, territorial and other sensitive issues, as he addressed the long-awaited China-Japan-ROK trilateral meeting on Sunday.
"Cooperation should be based on understanding. But unfortunately, even for countries so close like us, it is hard to have a deep understanding between some," Li said.
He said China hopes for better understanding, in a bid to achieve greater tolerance, regional peace and stability.
"I hope the recovery momentum of the meeting will not be changed in future," he said. The trilateral meeting was the first in more than three years since the mechanism discontinued due to historic and territorial issues.
Park Geun-hye, President of the ROK, said the resumption is already progress being made in pushing forward regional relations.
Japanese Prime Minister Shinzo Abe, who irritated both China and the ROK in 2012 by visiting a controversial shrine honoring war dead during the World WarⅡ, called for "mutual responsibility" in resuming dialogue and cooperation at all levels.
He said he hopes that discussions will pave the way for the next trilateral meeting, due to be held in Japan next year.