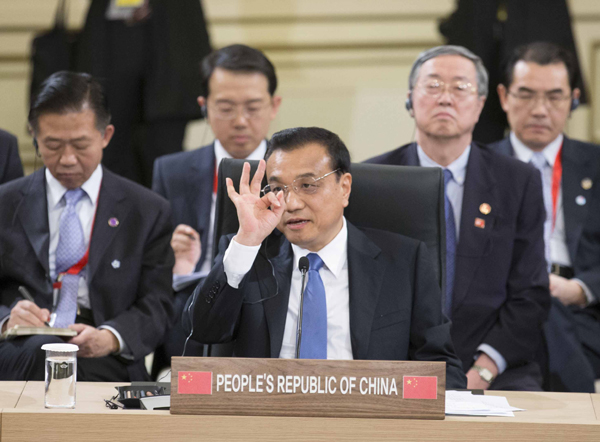 Chinese Prime Minister Li Keqiang talks with Japanese Prime Minister Shinzo Abe (not pictured) and South Korean President Park Geun-hye (not pictured) during their trilateral meeting at the presidential house in Seoul, November 1, 2015. [Photo/Xinhua]
SEOUL - Chinese Premier Li Keqiang said here Sunday that Beijing hopes for its trilateral cooperation with Japan and South Korea to be free from disturbances.
He urged the three sides to keep a firm grasp on the general direction of their relations, so as to push forward their cooperation and allow their just-resumed trilateral summitry to proceed regularly.
He made the remarks at a joint press conference with South Korean President Park Geun-hye and Japanese Prime Minister Shinzo Abe after the first China-Japan-ROK leaders' meeting following a three-and-a-half-year hiatus.
The premier said the three sides had a frank exchange of views, reached many consensuses, and agreed to promote their cooperation on the basis of facing up to history, looking forward to the future, and properly handling historical and other sensitive issues.
Park said the three countries passed a joint declaration in which they agree to resume regular trilateral summits.
For his part, Abe said his country will host the next China-Japan-ROK summit next year and will use the outcome of the latest meeting as the starting point.