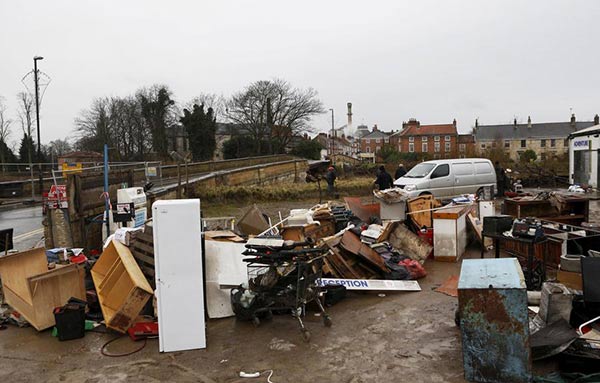 Flood damaged belongings are pictured at the scene of a collapsed bridge over the River Wharfe in the market town of Tadcaster, North Yorkshire, Britain, on Dec 30, 2015. A section of the bridge, which dates back to the 1700s, collapsed on Tuesday as heavy rain continues to hit the north of England. [Photo/Agencies]
LONDON - Torrential rain and gale force winds battered northern Britain on Wednesday, cutting power to thousands of homes and forcing some to evacuate flooded streets in the third major storm in a month.
The Environment Agency said Britain had faced an extraordinary period of severe weather and flooding in December, with consultants PwC warning that the latest deluge from Storm Frank could take total losses above 3 billion pounds ($4.5 billion).
Further heavy rain was predicted to fall throughout Wednesday as the latest storm swept across northern England, Scotland and Northern Ireland, sparking warnings of more significant flooding.
A Chinook helicopter was being used to deposit sandbags. In the North Yorkshire town of Tadcaster late on Tuesday, part of an 18th century stone bridge crumbled into the racing river.
"The weather remains hugely challenging, with more rain threatening to cause further flooding in Cumbria and Yorkshire today and into New Year's Eve," said Craig Woolhouse at the Environment Agency.
Around 6,700 properties were flooded in northern England in the last week as river levels reached all time highs, while three severe flood warnings remain in place, meaning there is a danger to life.