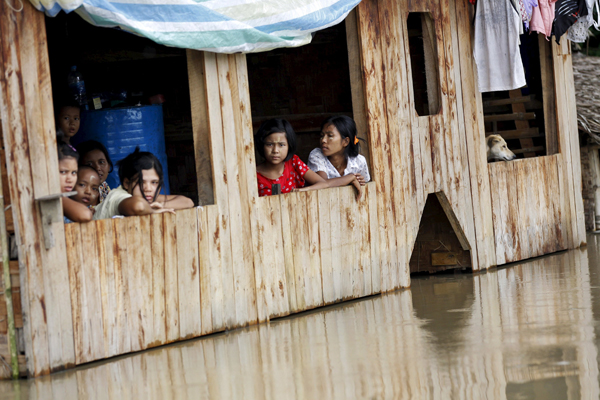 People sit at their home in a flooded village outside Zalun Township, Irrawaddy Delta, Myanmar, August 6, 2015. [Photo/Agencies]
YANGON - Myanmar's severe flooding has affected nearly 1 million people, according to updated figures from the Ministry of Social Welfare, Relief and Resettlement Monday.
The deadly floods have inundated more than 486,000 hectares of farmland, of which more than 177,957 hectares were destroyed, the Ministry of Agriculture and Irrigation said.
Figures showed that nationwide death toll from the severe flooding has risen to more than 100 so far with Rakhine state suffering the most casualties.
The recent floods and landslides have destroyed more than 3,000 schools, forcing them to shut down, official sources said.
According to a latest report, rising water levels is threatening to inundate the southwestern Ayeyawaddy delta region, the country's rice bowl.
Residents in low-lying areas in the Ayeyawaddy delta are being alerted and urged to move to safer places as the Ayeyawaddy and Ngawun rivers remained above the danger level in some four townships namely Hinthada, Nyaungdon, Zalun and Seiktha.
Deadly floods, triggered by heavy rainfall since June, have affected 13 regions and states in Myanmar, destroying houses, farmland, railway lines, bridges and roads.
The Myanmar government declared on July 31 four disaster zones, namely Rakhine, Chin, Sagaing and Magway, of which Rakhine state was the worst hit.