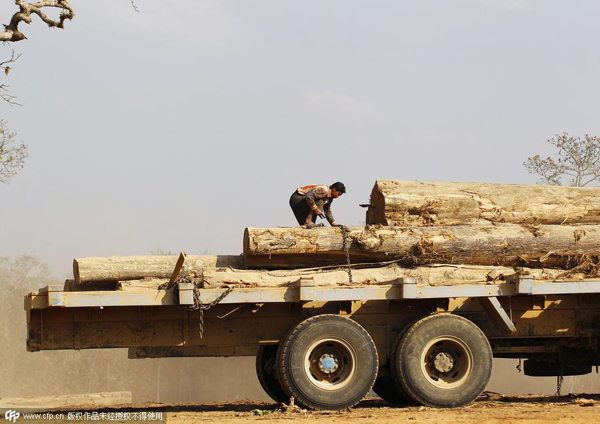 A man secures teak logs to a vehicle in a logging camp at Pinlebu township, Sagaing, northern Myanmar, in this picture taken March 5, 2014. [Photo/CFP]
YANGON - The Myanmar government on Thursday granted an amnesty to 6,966 prisoners including 155 detained Chinese loggers, a higher official confirmed.
The 155 Chinese loggers were among 210 foreigners of 6,966 prisoners freed on the same day.
The 210 foreign prisoners will be deported beginning Thursday with a view to maintaining mutual friendship and ties with related countries and on social ground.
On July 22, the Chinese loggers were sentenced for violating Myanmar's law against destroying public properties.
Last month, Chinese officials handed over 205 Myanmar nationals who were detained in China for illegal migration and working.
Related:
China raises representation with Myanmar over sentences on its nationals
BEIJING - China is highly concerned with a verdict by Myanmar that has sentenced Chinese nationals to more than 10 years in prison for illegal logging, said a Foreign Ministry spokesperson on Wednesday.
The loggers were sentenced under a 1963 law calling for jail terms of 10 years to life for anyone who steals or otherwise misuses or abuses public property.
Spokesperson Lu Kang said China had made representations with Myanmar over the matter.