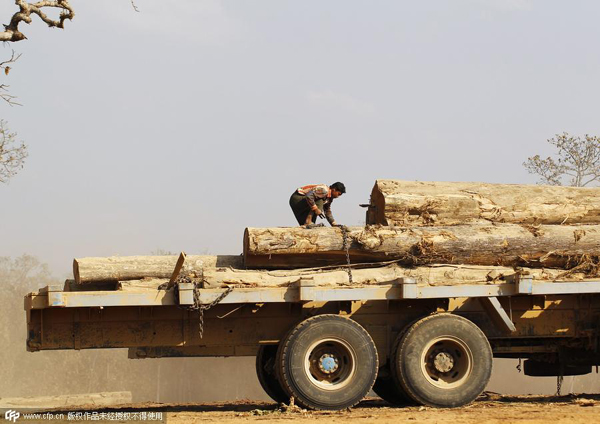 A man secures teak logs to a vehicle in a logging camp at Pinlebu township, Sagaing, northern Myanmar, in this picture taken March 5, 2014. [Photo/CFP]
BEIJING - China is highly concerned with a verdict by Myanmar that has sentenced Chinese nationals to more than 10 years in prison for illegal logging, said a Foreign Ministry spokesperson on Wednesday.
The loggers were sentenced under a 1963 law calling for jail terms of 10 years to life for anyone who steals or otherwise misuses or abuses public property.
Spokesperson Lu Kang said China had made representations with Myanmar over the matter.
China has asked Myanmar to take China's concern seriously, take every factor into account and properly handle the case, he said.
Since these Chinese nationals were arrested by Myanmar at the beginning of this year, China has repeatedly raised representation with Myanmar from various channels, he said.
China has requested the Myanmar side to consider the actual situation of those loggers and deal with the matter in a lawful, reasonable and sensible way, he said.
China also asked Myanmar to resolve the case properly and return those Chinese citizens as soon as possible, he added.
Those Chinese nationals were arrested in raids on illegal logging that began on Jan. 4 in Myanmar's conflict-stricken northern Kachin State.