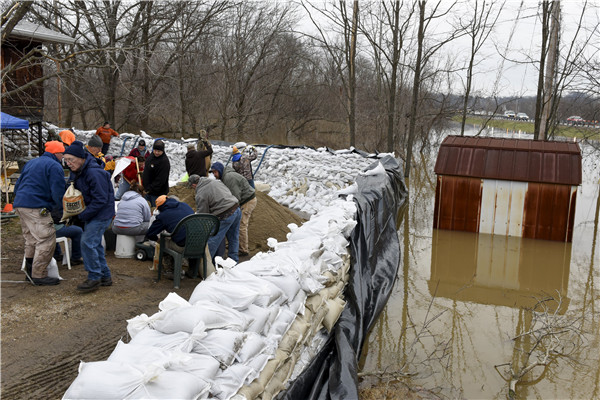 Volunteers create a wall of sandbags to protect homes from flooding after several days of heavy rain in Arnold, Missouri, December 30, 2015. [Photo/Agencies]
CHICAGO - Rain-swollen rivers in the US Midwest forced the evacuation of hundreds of residents, threatened crops and livestock and left scores of buildings underwater on Wednesday after days of extreme weather in which 24 people died.
Several major rivers, including the Mississippi, were expected to crest at or above record levels as flood waters rushed toward the Gulf of Mexico, the National Weather Service said.
Flooding has closed many roads and parts of Interstate 44, a major artery running from west Texas to St. Louis.
Water rose to the rooftops of homes and businesses in Missouri, where Governor Jay Nixon called the flooding "historic and dangerous."
About 300 people in Valley Park, Missouri, west of St. Louis, were evacuated because a levee that protects the community might be breached by the Meramec River, said Chief Rick Wilken of the Valley Park Fire District.
"We have seven people who are going to wait it out," Wilken said. "Some people just want to hang onto their homes."
The American Red Cross had seven shelters open in St. Louis on Wednesday, and spokesman Zach Collins said people were trying to help each other. "There was one lady who only had $67 in her bank account but gave 34 of it for cereal and pop tarts and that sort of thing, just to give back," Collins said.
Louisiana Governor Bobby Jindal declared a state of emergency as the waters moved south toward his state. Flash flood warnings were issued for parts of the Carolinas and Georgia.