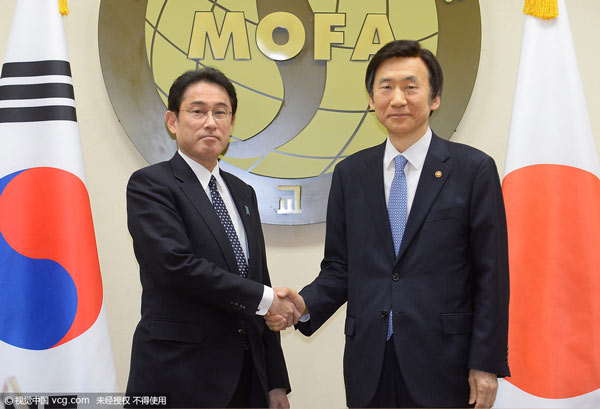 South Korean Foreign Minister Yun Byung-se (R) shakes hands with Japanese Foreign Minister Fumio Kishida (L) before their meeting at foreign ministry on Dec 28, 2015 in Seoul, South Korea. [Photo/CFP]
SEOUL - Japan on Monday agreed to offer one billion yen ($8.3 million) in reparations to the victims of Korean women who were forced to work as comfort women by Japan during the World War II through a fund to be created by the South Korean government, Yohap reported.
The compensation was part of a landmark agreement reached by South Korea and Japan in a bid to resolve the issue of "comfort women", a euphemism for Korean women forced to serve in Japan's military brothels during WWII as South Korean Foreign Minister Yun Byung-se held talks with his Japanese counterpart Fumio Kishida and announced the deal.
The Japanese government feels "deep responsibility" over the comfort women issue and will contribute to a fund to help the women, Kishida told a news conference after the ministerial-level meeting in Seoul.
The top Japanese diplomat read the press conference a statement from Japanese Prime Minister Shinzo Abe who "expresses apology and remorse from the heart for all the people suffering hard-to-cure wounds" physically and psychologically.
The phrase of "apology and remorse from the heart" has been used by Abe in the past.
The Abe statement said "the Japanese government strongly feels responsibility" for the comfort women issue from the perspective that the honor and dignity of many women were deeply scarred "under the involvement of" the Imperil Japanese Army.