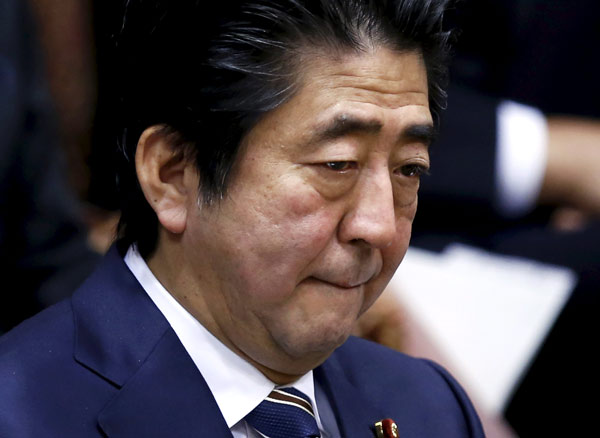 Japan's Prime Minister Shinzo Abe attends an upper house committee session at the parliament in Tokyo in this Feb 2, 2015 file photo. [Photo/Agencies]
TOKYO - Mass protests across Japan showing the magnitude of public condemnation for Prime Minister Shinzo Abe forcing through parliament security bills that have reversed 70 years of pacifism have dominated press headlines in Tokyo as the year draws to a close.
When Abe's singular goal of recasting the nation's military seems to have been achieved, the public remain dumbfounded and shellshocked at the alacrity at which it all happened.
But those in the know understand that the government's increasingly rightwing leanings since Abe retook office in 2012 and its maneuvers thereafter, including the hawkish leader's military drive, have been a carefully choreographed ideological masquerade resurrected from the past and implemented by a new resurgence of old-school revisionists.
Ego boost
This once-proud nation, thus, is in a state of limbo and the government is attempting to roll back the years and stoke the embers of nationalism in the hope that a collective ego boost will somehow miraculously lift Japan from its economic malaise and social doldrums.
Step one is to, while sending a clear message that Japan is once again a global military player backed by a soon-to-be better economy as "Abenomics 2.0" has propagandized despite round one flopping and ushering in a recession, erase past "misdemeanors" that Japan and its citizens still, rightfully, feel contrition for.
"It's somewhat ironic that what has been happening in the government is essentially an attempt to rewrite Japan's horrific past, in terms of its reign of terror in East Asia during WWII, or put differently try to 'wipe the slate clean,' while simultaneously gearing up again for overseas conflict," pacific affairs research analyst Laurent Sinclair said.
"In the very year that marked the seventieth anniversary of the end of WWII, Abe has reversed 70 years of constitutionally mandated pacifism by deriding the Supreme Law and the will of the public and along with his hand-picked cabinet pals forced a new style of old-militarism on a reluctant nation," he said.
Abe's war statement made a mockery of previous administration's apologies for Japan's wartime barbarism and overall oblique precept that the nation's decades-held pacifist ideology, far from being a virtue, is, in fact, a weakness, he added.
Sinclair said that Abe has and is deftly setting about attempting to reboot Japan's "own understanding" of its history, as well as the way the international community views Japan's past, through a series of subtle measures that rely heavily on semantics, phraseology and wording, as much as overt statements and policies.
"In doing so, through a serious of 'PR campaigns' Japanese people can feel better about themselves and in the brief time it takes for these nimble ego massages, the government moves ahead with its militaristic ambitions in a unilateral fashion, as the nation is too busy feeling 'slightly better about itself,'" he said.